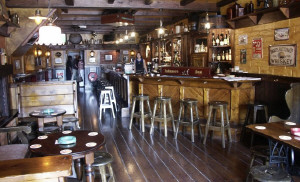 ---
O Boares Gállá Pub foi construido juntamente com a cidade antes mesmo do estalajadeiro ser construido.
O pub pertence a mesma família desde sua construção, os McGiuld, seu interior rustico é o mesmo desde o inicio.
Com algumas mesas nos lados o meio do salão é livre para se andar, além das mesas e nos bancos a frente do balcão há também um segundo piso, construido alguns séculos depois da construção de Noskort para poder alojar melhor a todos os clientes.
A sua cerveija amanteigada é muito famosa pelo seu sabor único, com uma dose a mais de caramelo do que as outras.
Os bruxos de grande parte da europa em viagem nunca perdem a chance de conhecer o grande Boares Gállá Pub.
Não perca a oportunidade.
Página Inicial | Estrutura

Ad blocker interference detected!
Wikia is a free-to-use site that makes money from advertising. We have a modified experience for viewers using ad blockers

Wikia is not accessible if you've made further modifications. Remove the custom ad blocker rule(s) and the page will load as expected.