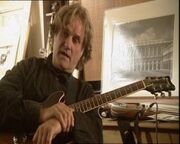 Rado "Bob" Klose (born 1945; sometimes referred to as Bob Close or Brian Close in various publications) is a British musician and photographer. He was one of the earliest members of the rock band Pink Floyd, playing lead guitar; however, he left the band before they recorded their first released single, "Arnold Layne".
"The Abdabs" (also known as "The Screaming Abdabs"), with Roger Waters (lead guitar), Rick Wright (rhythm guitar), Nick Mason (drums), Clive Metcalfe (bass guitar), and Keith Noble & Juliette Gale (vocals), performed rhythm & blues under various names ("Sigma 6", "The Meggadeaths", and the Abdabs variations above) during their run with manager Ken Chapman, who also wrote some early material for the band.
Metcalfe, Noble, and Gale left the band around the time Wright and Gale married. Syd Barrett (guitar and vocals) and Bob Klose (lead guitar and vocals) joined the remaining members. This new group called itself first "Tea Set" and then "The Pink Floyd Sound" (named after two old Georgia bluesmen, Pink Anderson and Floyd Council). The word "Sound" was dropped from the band's name, with the definite article disappearing a few years later.
Klose was more focused on his studies than his bandmates and was more interested in jazz and blues than Barrett's psychedelia and pop, so he left the band in 1965, shortly after joining. Barrett assumed lead guitar, lead vocals, and the bulk of the songwriting, while Klose went on to become a photographer.
Klose confirmed in a TV documentary that his guitar can be heard on the unreleased early acetate single "Lucy Leave/"I'm a King Bee", both available on the A Tree Full of Secrets bootleg collection.
In 2006 Klose appeared as a guest performer on David Gilmour's album "On An Island".
Ad blocker interference detected!
Wikia is a free-to-use site that makes money from advertising. We have a modified experience for viewers using ad blockers

Wikia is not accessible if you've made further modifications. Remove the custom ad blocker rule(s) and the page will load as expected.