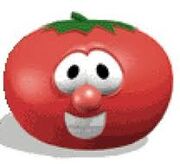 Bob the Tomato is the main protagonist from
Veggie Tales
.
Counterparts
Rayman (Rayman)
Fox McCloud (Star Fox)
Fix-It Felix Jr. (Wreck-It Ralph)
P.J. Duncan (Good Luck Charlie) 
Eddy (Ed, Edd 'n' Eddy) 
Woody (Toy Story)
Kermit the Frog (Muppets, both are the main hosts of the series)
Orson Pig (Garfield and Friends)
Gallery
Ad blocker interference detected!
Wikia is a free-to-use site that makes money from advertising. We have a modified experience for viewers using ad blockers

Wikia is not accessible if you've made further modifications. Remove the custom ad blocker rule(s) and the page will load as expected.