Bolinhos Esmagados, geralmente vêem de Gabriel que traz bolinhos e põe no bolso, Aí o negócio fica tudo fudido e ao invés de comer ele molha e joga na privada ¬¬ Daí vêm o famoso Bolinho Esmagado de Gabriel que fica parecendo merda na privada.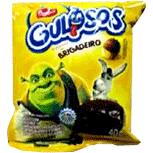 Este é o bolinho que é esmagado por Gabriel

Esta página pertence à Escola Adventista de Franca
Ad blocker interference detected!
Wikia is a free-to-use site that makes money from advertising. We have a modified experience for viewers using ad blockers

Wikia is not accessible if you've made further modifications. Remove the custom ad blocker rule(s) and the page will load as expected.