Ad blocker interference detected!
Wikia is a free-to-use site that makes money from advertising. We have a modified experience for viewers using ad blockers

Wikia is not accessible if you've made further modifications. Remove the custom ad blocker rule(s) and the page will load as expected.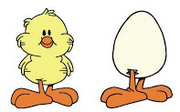 Booker and Sheldon
are characters from
Garfield and Friends
. They are a set of chick twins raised by
Orson Pig
 after their mother went on strike. Booker is named after Orson's love of books (personally, he's glad Orson doesn't like kumquats!) and Sheldon prefers to stay inside his eggshell to avoid the dangers of the outside world.
First Appearances
Booker
Comics: May 6, 1986 (egg) May 22, 1986 (hatched)
Cartoon: Wanted Wade
Sheldon
Comics: May 6, 1986 (egg) May 27, 1986 (hatched, well... sort of)
Cartoon: Wanted Wade
Counterparts