Ad blocker interference detected!
Wikia is a free-to-use site that makes money from advertising. We have a modified experience for viewers using ad blockers

Wikia is not accessible if you've made further modifications. Remove the custom ad blocker rule(s) and the page will load as expected.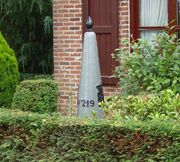 The border between Belgium and the Netherlands runs from the tripoint with Germany near Aachen to the North Sea.
The border is marked with 369 numbered border markers. Border marker nr. 1 is near the tripoint with Germany, nr. 369 is located near the Zwin natural reserve on the North Sea coast.
Tripoints
Border markers
1-99
100-199
200-299
200, 201, 202, 203, 204, 205, 206, 207, 208, 209, 210, 211, 212, 213, 214, 215, 216, 217, 218, 219, ... 299
300-369