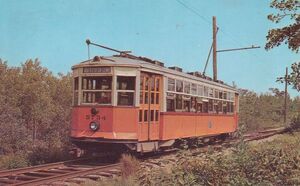 The Boston Elevated Railway designed its own version of a double truck lightweight car and bought a total of 471 from 1922 to 1928. The Type 5 semiconvertible has the Boston front and the inward taper from window sills to roof, but in most other details it resembles other cars of this period. No. 5734, built by Brill in 1924, and No. 5821, also a Brill 1924 product, are both owned by the museum. While basically identical, they differ slightly in that No. 5821, acquired in 1954, has narrower front window frames and posts, forming what was termed a "vision front".

Number 5734, acquired by the museum in 1959, arrived in Maine on a Tuesday and was pressed into service only a few days later when a heavy rainstorm precluded the use of an open car. Between trips, museum personnel installed a fare register and conductors' bells and two hardy souls braved the steady downpour to adjust the tension on one of the trolley poles, which had been slipping off the wire. Subsequently, No. 5734 was one of Seashore's regular service cars. No. 5734 has been leased to Boston's MBTA for use on excursions and in special events.
Ad blocker interference detected!
Wikia is a free-to-use site that makes money from advertising. We have a modified experience for viewers using ad blockers

Wikia is not accessible if you've made further modifications. Remove the custom ad blocker rule(s) and the page will load as expected.