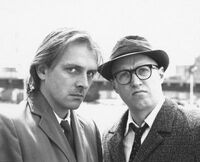 Bottom was a British sitcom of the early 1990s (and later a series of stage shows) written by Rik Mayall and Ade Edmondson. They were also the main stars, respectively playing Richard Richard (Richie) and Edward Elizabeth Hitler (Eddie), who share a flat in Hammersmith, West London. The programme ran for three series of six episodes each.
Origins
The idea for Bottom was spawned when, in 1991, Mayall and Edmondson co-starred in the West End production of Samuel Beckett's Waiting for Godot at the Queen's Theatre. Mayall and Edmonson have said Bottom was often aimed to be more than just a series of toilet gags but a cruder cousin to plays like Waiting for Godot, about the pointlessness of life.
However, the origins of the characters are rooted much deeper. Mayall and Edmondson had been working together since the late 1970's when they teamed up as "20th Century Coyote". Over the course of their career, they developed the characters of Richie and Eddie, based loosely on their own relationship. The names themselves come from Mayall's and Edmondson's own nicknames for each other - many of Mayall's characters are referred to by some variation of the name "Richard" and "Eddie" is taken from "Eddie Monsoon", Edmondson's nickname since University which is a play on his surname. The duo would uses characters similar to Eddie and Richie in The Young Ones (Rick and Vyvyan); "The Dangerous Brothers" (Sir Richard Dangerous and Sir Adrian Dangerous); Filthy Rich and Catflap (Richie Rich and Eddie Catflap); Mr Jolly Lives Next Door (Richie and Eddie); and finally in their adaptation of Waiting for Godot.
Mayall and Edmonson originally planned to call the series Your Bottom, intending viewers to say such things as "I saw Your Bottom on television last night". Eventually they settled for just Bottom, which both suited the toilet humour of the series, and the fact that Richie and Eddie were 'at the bottom of life's heap'. It also provided the ability to produce episodes titled "'s Up" and "'s Out".
Meet Richie & Eddie
Richie is a perpetually optimistic dimwit, while Eddie is a cheerfully violent dipsomaniac. Their arguments often lead to exaggerated, destructive fight scenes. Some have likened this to a live action cartoon. However, the boisterousness is somewhat more graphic: examples include heads slammed in and under refrigerators; hands stapled to tables; legs being chainsawed off; genitalia slammed in doors or set on fire; fingers cut off; televisions smashed over heads; darts, forks, or fingers winding up in eyes; faces shoved in camp fires; legs broken or teeth knocked out. Some of the visual effects used for these events are very realistic, whereas others are deliberately fake. All are accompanied by a variety of over-the-top sound effects. In spite of this, the BBFC has given the Bottom: The Complete Series DVD a classification of 15, with a violence rating of "None".
Richie is known to be a virgin, with a microscopic penis (which he sometimes mistakes for his only pube). He also tends to believe that any woman who doesn't fancy him must be a lesbian. Richie usually wears a white shirt (tucked into his Y-fronts) and slim black tie (with tie clip), blue jeans (with a belt that clearly misses most of the loops) and has a light brown raincoat he also occasionally wears Braces . His character is aspirational, pretentious, and occasionally a snob. Eddie is an alcoholic (he claims that this is because he "drinks a lot"). He wears glasses akin to those of Eric Morecambe, a brown suit and a white shirt with a black tie. Despite having a shaven head, he sports sideburns. He also has a brown trilby hat and a tweed overcoat. He has two real friends, called Spudgun (Steve O'Donnell) and Dave Hedgehog (Christopher Ryan). Richie does not have any friends and sometimes appropriates Spudgun and Dave if in need of company. Richie and Eddie bear perhaps closer inspection than any of Mayall and Edmondson's other characters. Despite sharing a deep mutual hatred, the two are eternally entwined due to their basic flaws. Eddie's alcoholism and violent nature means that he has not been able to hold down a steady job since his very short-lived career as a "bunny girl", back in 1978, and it is unlikely that any landlord would grant him tenancy, even if he could afford the rent. He is therefore forced to rely upon Richie's charity. Richie, on the other hand, is such a self-obsessed, perverted, wittering git that without Eddie, it is unlikely that he would make another friend. The two have an unspoken acceptance of their co-dependency and their relationship tends to fluctuate between acting like a married couple (filling in the crossword together, Richie putting an unconscious Eddie to bed every night) and frustrated (often violent) desperation: so much so that both have attempted suicide — Eddie drinking bleach (albeit drunkenly) and Richie drinking poison milk and trying to gas himself in the oven (merely an attempt at "guilting" Eddie into buying him a drink). This partnership has similarities to those of Steptoe and Son, and Hancock and Sid in Hancock's Half Hour.
Richie is in heavy denial and has delusions of grandeur. He once tried to convince a Falklands ex-serviceman that he had fought ten years there, seizing the fictitious "Straud Hill" and liberated the Stanley branch of Tesco). Eddie, in comparison is grounded and seems to have quite good general knowledge, which he keeps to himself. He can play chess (and spends six hours trying, unsuccessfully, to teach Richie), he knows a fair amount about Napoleon and Wellington (who Richie claims invented the Chelsea Boot) and appears well versed in the works of Vivaldi, (whom Richie believes to be a football player). Eddie is also a great one for plans - though most involve trying to get a free pint from Dick Head, the landlord at the Lamb and Flag. One such scheme, in the episode "Dough", involved Eddie printing counterfeit money, which he plasters with pornographic doodles of the Royal Family and other such celebrities (on the £5 the Queen "gets her jugs out", on the £50 note there is an orgy involving the Queen, the Duke of Edinburgh and Bobby Charlton, and on the £27 note there is a picture of Sylvester Stallone "fisting" Mr MacHenry (from The Magic Roundabout)).
Richie and Eddie's relatives are often mentioned: Richie's grandad was at the Battle of the Somme, while Eddie's uncle used to work in a prison, sewing mailbags and anything they told him to do. Richie's auntie is very rich and dies in one episode with her nephew inheriting a large sum of money. Richie's dad, Oswald Richard, was an acquaintance of Adolf Hitler and betrayed Britain in World War II. According to Richie, his dad moved in mysterious circles, because he had one leg shorter than the other. Richie's sister lives near Hammersmith and apparently looks just like her brother, albeit "with smaller jugs". Eddie's mother was a wrestler named "Adlof Hitler".
The stage shows
Five live theatre shows have been spun off over the years, and have been extremely popular. The two performers often (apparently) forget their lines and have to ad lib. They also often make fun of the town/city in which they are playing by making the locals out to be stupid. These productions are far cruder than the television incarnation, and feature new elements such as Richie's latent homosexuality and desire to shag Eddie. Invariably, a member of the audience will shout out the phrase "Have a wank!" which was then used as a mass audience heckle in the Weapons Grade Y-Fronts show.
More Bottom?
Though the pair are currently working apart, a fourth series was written, but the BBC declined the script. Edmondson has, however, stated in interviews that he would like to make another series of Bottom with Mayall, but "in about 15 years' time, when they are old men." Rik Mayall maintains that they will work together again in the future, they just need "a good idea."
However, in December 2004, almost exactly one year after the Weapons Grade Y-Fronts tour had ended, Adrian Edmondson told the British Daily Mirror newspaper that the pair felt it was "[...] definitely time to stop. We're both getting too old. We both realised that the show wasn't as engaging as it used to be. We were starting to look a bit ridiculous. [...] We're both nearly 50 and we're starting to feel slightly undignified talking about wanking and knobs constantly." [1] This effectively ended Edmondson's and Mayall's working partnership that had lasted for almost 25 years.
Episodes list
Series 1 (1991)
Title
First broadcast
Notes
Smells
1991-09-17
Richie and Eddie take advantage of a revolutionary new sex-spray
Gas
1991-09-24
Richie and Eddie must remedy an illegal gas connection without disturbing their violent neighbour.
Contest
1991-09-30
The pair place a bet on the "Miss World" contest
Apocalypse
1991-10-07
Richie receives bad news from a Gypsy fortune teller
's Up
1991-10-14
Richie and Eddie mind their landlord's corner shop
Accident
1991-10-28
Richie's birthday party is not a success
[This episode sees the first appearance of Spudgun and Dave Hedgehog]
Series 2 (1992)
Series 3 (1995)
Live shows
Guest House Paradiso
Following the "Hooligan's Island" tour, Rik Mayall and Adrian Edmondson wrote a spin-off movie together, which Edmondson directed, entitled Guest House Paradiso, released in 1999. It uses characters based on the Richie and Eddie characters used by the pair for much of their careers, the differing situation (in which Richie and Eddie run a filthy hotel next to a nuclear power plant) suggests that these characters have fled to the south coast complete with different surnames after returning from Hooligan's Island and discovering that they are still hunted for regicide, after killing the queen in The Big Number 2 Tour.
See also
List of British sitcoms turned into films
External links
Ad blocker interference detected!
Wikia is a free-to-use site that makes money from advertising. We have a modified experience for viewers using ad blockers

Wikia is not accessible if you've made further modifications. Remove the custom ad blocker rule(s) and the page will load as expected.