Translation : Sculptor from Mechelen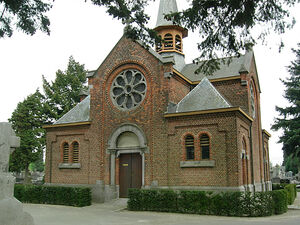 Boudewijn Tuerlinckx werd geboren te Mechelen in 1873 en zal er sterven in 1945. Volgens sommige bronnen [1] is hij de zoon van de Mechelse beeldhouwer Joseph Tuerlinckx, alhoewel Boudewijn Tuerlinckx werd geboren in het sterfjaar van Joseph Tuerlinckx en deze laatste toen reeds 64 jaar oud was.
Boudewijn Tuerlinckx was een beeldhouwer en leraar van o.a. de Mechelse beeldhouwer Pieter-Bertrand Vanhumbeeck (1888-1965).
Verschillende Belgische publieke monumenten zijn van zijn hand.
Carrière
Boudewijn Tuerlinckx leert het vak van beeldhouwer aan de Mechelse academie waar hij, tussen 1885 en 1895, les krijgt van Jan Willem Rosier [2] en V. Van Dyck. Hij zal zijn opleiding voltooien aan de academie in Brussel, waar hij les volgt bij de beeldhouwer Charles van der Stappen [3].
Tussen 1899 en 1935 zal hij zelf les geven aan de Mechelse academie [4].
Enkele werken
Mechelen
Op het Mechelse kerkhof, aan de Ziekebeemdenstraat, siert een monument uit 1928-1929 van Boudewijn Tuerlinck het militaire ereperk [5]. En het art nouveaumonument van architect Vandenberg is getooid met een beeld van zijn hand [6].
Onze-Lieve-Vrouw-Waver
In het Sint-Ursula-Instituut in Onze-Lieve-Vrouw-Waver bevindt zich, bij het bestijgen van de eretrap, een Madonna met Kind dat een werk is van Boudewijn Tuerlinckx [7]. Dit marmeren beeld werd aangeboden door de leerlingen van het instituut ter gelegenheid van het 25-jarige superioritaat van (eerwaarde moeder) Albertine van Genechten en werd op 25 november 1923 daar ingezegend [8].
Verkoop
Een aantal werken van Boudewijn Tuerlinckx worden geregeld aangeboden op lokale [9] en internationale kunst-en internetveilingen [10] [11].
Extra
Als eerbetoon aan de Mechelse beiaardier Jef Denyn maakt Boudewijn een herdenkingsmedaille met diens beeltenis [12].
Externe links
Voetnoten
Ad blocker interference detected!
Wikia is a free-to-use site that makes money from advertising. We have a modified experience for viewers using ad blockers

Wikia is not accessible if you've made further modifications. Remove the custom ad blocker rule(s) and the page will load as expected.