Brad Buttowski is the eldest child in the Buttowski family. He is known for tormenting Kick Buttowski.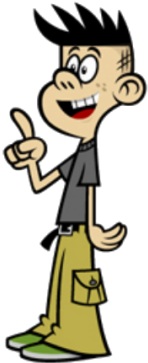 Counterparts
Duncan or Ezekiel (Total Drama)
Gideon Gleeful or Soos (Gravity Falls)
Hans (Frozen)
Snips (My Little Pony)
Gus (Robotboy)
Shadow The Hedgehog(Sonic The Hedgehog)
Itachi Uticha(Naruto)
Eric Cartman (South Park)
Beavis(Beavis and Butthead)
Ad blocker interference detected!
Wikia is a free-to-use site that makes money from advertising. We have a modified experience for viewers using ad blockers

Wikia is not accessible if you've made further modifications. Remove the custom ad blocker rule(s) and the page will load as expected.