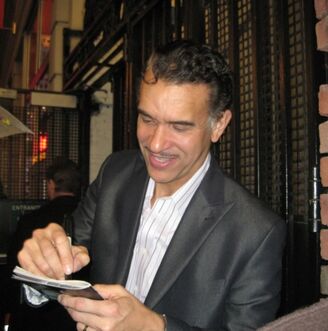 Brian Stokes Mitchell
(born October 31, 1957) is an American Stage, Film, Television and Radio Actor.
Biography
Mitchell was born in Seattle, Washington, the youngest of four cildren of George Mitchell, an Electronics engineer and his wife Lillian, a School administrator.
He has also done voice-overs for Animation including Madeline, Madeline: Lost in Paris, My Fair Madeline, Madeline in Tahiti, An American Tail, The Adventures of Tintin, Charlie and the Chocolate Factory, F3: Friendly, Faithful and Fair, The Dog of Flanders, Aladdin, Digimon Adventure, Digimon Adventure 2, Digimon: The Movie, The Lion King, The Further Adventures of SuperTed, The Return of Jafar, Aladdin and the King of Theives, Digimon: Digital Monsters, The Baby-Sitters Club, A Christmas Carol, The Nightmare Before Christmas and Charlie and the Great Glass Elevator.
Ad blocker interference detected!
Wikia is a free-to-use site that makes money from advertising. We have a modified experience for viewers using ad blockers

Wikia is not accessible if you've made further modifications. Remove the custom ad blocker rule(s) and the page will load as expected.