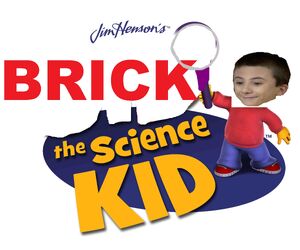 Brick The Science Kid
: This parody includes 20th Universal Goodtimes Century Paramount Productions clips, Sid The Science Kid sounds and unecessary censors.
Coming Soon! January - December 2016 - 2020, and lots more!
Cast
Brick (from The Middle) as Sid
Angela (from Barney & Friends) as May
Malcolm (from Maicolm In The Middle) as Gerald
Matilda (from Matilda) as Gabriela
Miss Rosa as Susie
Dad (from Caillou) as Mort
Mom (from Caillou) as Alice
Grandma Thora (from Arthur) as Grandma
Bradbury (from Super Why!) as Dr. Rosalinda Cordova
Animal (from Muppet Babies) as Zeke
List of Brick The Science Kid episodes (subject)
SEASONS
The Sticker Chart (charts)
The Rolie Polie (observation/magnification)
Enough with the Seashells! (estimation)
The Whale Episode (nonstandard measurement)
Super Science Tools!
My Mushy Banana (decay)
My Shrinking Shoes (growth)
My Ice Pops (reversible transformation/Ice)
The Perfect Pancake (irreversible transformation/Heat)
No More Changes!
The Itchy Tag (texture/touch/feel)
What's That Smell? (smelling)
Grandma Thora's Glasses (sight/vision)
Too Much Noise! (hearing)
All My Senses
A Brush With Teeth (dental hygiene)
I Want Cake (healthy food groups)
The Big Sneeze (germs)
Must See TV (exercise/fitness)
Brick's Health Day
The Broken Wheel (wheels)
My Slide (inclined planes)
Brick's Amazing Invention (levers)
The Tree House (pulleys)
Climb, Ignatz, Climb!
Hello, Doggie! (animal communication)
Home Tweet Home (animal homes)
The Dirt on Dirt (dirt/soil/mud)
Don't Forget the Leaves! (leaves)
The Bug Club
Special Mom Day Meal (stomachs)
I Have Muscles Where? (muscles)
Bricks Amazing Lungs (lungs)
How Did My Dog Do That? (bones/skeletons)
Now That's Using Your Brain (brains)
Brick's Rainy Play Date (rain/thunder/lighting)
Special Sunny Dad Day (sun/hot)
Bricks Holiday Adventure (snow/cold/ice)
The Wind Did It (wind)
Brick the Weatherman
Slide to the Side (friction)
That's the Way the Ball Bounces (elasticity)
Ignatz's Inertia (inertia)
Brick's Super Kick (force)
Where Did The Water Go (water)
Clean Air (Air/Trees)
Reused Robot (Recycling/Trash)
Save the Stump (Habitats)
Let There Be Light (light)
Discovering Darkness (dark)
Shadow Smile (shadows)
A Rainbow Every Day! (rainbows)
The Amazing Computer Science Tool! (computers)
The Big Cheese! (research)
Brick Wings It! (Wings)
Brick Engineers a Solution (engineering)
Get Up and Move!
Rock n Roll Easter (Rocks)
Living Things
Brick's Pet Project (pets/responsibility)
Sleep Who Needs It (sleep)
Seed The Science Kid (seeds/life cycles)
The Reason Brick's Sneezin (allergies)
Getting A Shot: You Can Do It! (vaccination)
No School Sing-Along Special
Brick's Backyard Campout
Halloween Spooky Science Special (Halloween: Spiders/Bats/Skeletons/Cats)
I Want to Be a Scientist! (Wildlife biologist/Robotics engineer/Chemist/Astronaut)
Ad blocker interference detected!
Wikia is a free-to-use site that makes money from advertising. We have a modified experience for viewers using ad blockers

Wikia is not accessible if you've made further modifications. Remove the custom ad blocker rule(s) and the page will load as expected.