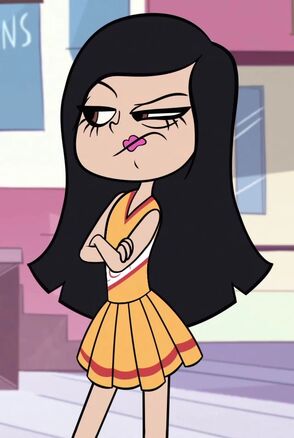 Brittany Wong is the love interest of Brad Buttowski appearing in Star Versus The Forces of Evil. She has long black hair and light brown eyes. Her main outfit consists of: a purple shirt with white short sleeves, purple skirt, white socks and purple shoes. She is voiced by Minae Noji (who also voices Michiko's older sister Kira Ohara from The Accidentally Series). At her age, she is 14 years old. In her prom dance with Brad, her prom outfit (as in Brittany's Party) is composed of: a purple dress, tan pantyhose and purple high heels.
Family
Sandra Wong (Mother)
Jordan Wong (Father)
Marissa Wong (Younger Sister)
Helen Wong (Older Sister)
Brad Buttowski (Love Interest)
Likes
Dislikes
Counterparts

 WARNING: You may add appropriate counterparts. But, do NOT delete any.
Elizabeth (Thomas the Tank Engine and Friends)
Kraka-Toa (TUGS)
Kammy Koopa, Birdo, Mecha-Birdo, or Wendy O. Koopa Super Mario Bros)
Mama Robotnik, Princess Kupacious, Breezie, Wave the Swallow, Zeena, Katella, Rouge the Bat, Bunnie Rabbot, or Zorabel (Sonic the Hedgehog)
Evil Midge Smoot (Shining Time Station)
Agnes Skinner (The Simpsons)
The Queen (A Bug's Life)
Grandma Thora Read or Molly MacDonald (Arthur)
Aunt Myrtle (The Wubbulous World of Dr. Seuss)
Ms. Fowl (Jimmy Neutron)
Mrs. Cutler (Scooby Doo)
Mrs. Estelle Dabney (Good Luck Charlie)
Mrs. Brinks (Angela Anaconda)
Bonnie (Kim Possible)
Kathy Copter (Cars)
Katnappe (Xiaolin Showdown)
Madame Morrible (Wicked)
Officer Jenny or Mawile (Pokemon)