Brother Bear 
is a character from
The Berenstain Bears
.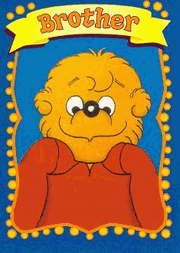 Counterparts
Percy (Thomas the Tank Engine and Friends)
Sunshine (TUGS)
Yoshi or Mario (Super Mario Bros.)
Brewster (Chuggington)
Matt, Dan, or GC Mr. Conductor (Shining Time Station)
Miles "Tails" Prower or Sonic the Hedgehog (Sonic the Hedgehog)
Bo or Booker (Garfield and Friends)
Private Meekly (Wacky Races)
Hamton J. Pig (Tiny Toon Adventures)
Tweety Bird (Looney Tunes)
Sam-I-Am (Dr. Seuss/The Wubbulous World of Dr. Seuss)
Wakko Warner (Animaniacs)
Nibbles/Tuffy (Tom and Jerry)
Diddy Kong (Donkey Kong Country)
Buster Baxter (Arthur)
Junior Asparagus (VeggieTales)
Kevin (3-2-1 Penguins)
Chuckie Finster (Rugrats)
Pikachu or Ash Ketchum (Pokemon)
Pinocchio (Pinocchio)
Donald Duck or Mickey Mouse (Mickey Mouse)
Deku Link (The Legend of Zelda)
Scooby Doo (Scooby Doo)
Ad blocker interference detected!
Wikia is a free-to-use site that makes money from advertising. We have a modified experience for viewers using ad blockers

Wikia is not accessible if you've made further modifications. Remove the custom ad blocker rule(s) and the page will load as expected.