Translation : Ancient brewery in Mechelen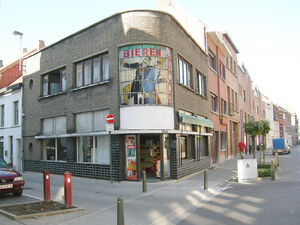 Mechelen telde in het verleden verschillende brouwerijen die één na één verdwenen. Naast brouwerij Het Anker en Chevalier Marin was er tevens de brouwerij van César Jacobs.
Geschiedenis
Brouwerij César Jacobs was gevestigd aan de Olivetenvest in Mechelen, vlakbij de oude Winketbrug. Deze brouwerij (Brasserie Winketpoort) was, rond 1900, opgericht door César Jacobs (1856 – 1938) in een coöperatie met een aantal caféhouders. Deze coöperatie zou het uithouden tot 1906, waarna César Jacobs het op zijn eentje probeerde.
Chronologie
Brasserie Van Velsen Frères (1892-1895)
Brasserie Winketpoort Cooperatie (1895-1906)
César Jacobs & Joseph Van Santfliet (1908-1913)
César Jacobs "Brasserie de Winketpoort" (1913-1940)
Brouwerij-Mouterij César Jacobs (1940-1955)
Enkele bieren van brouwerij Jacobs
Jacobs Pils
Spalterbrau
Jacobs Bock Special
Marvel
César Jacobs
César Jacobs was oorspronkelijk afkomstig van de Mechelse deelgemeente Hombeek. César Jacobs woonde in de Bankstraat. Uiteindelijk verhuisde de familie Jacobs naar de Koningin Astridlaan 15 in Mechelen. Dit herenhuis werd, in 1938, ontworpen door architect Vancauwenbergh en bevatte unieke art-deco-elementen.
Café's
In Hombeek, een deelgemeente van Mechelen, bezat de brouwerij Jacobs het café "Bell Vue". Ook in de binnenstad van Mechelen runde de brouwerij een aantal herbergen, waarvan sommigen gekenmerkt werden door een glasraam met een art-decomotief (Hoek Nattenhofstraat / Koolstraat en hoek Heembeemd / Goswin de Stassartstraat).
Café "Auwegem" (hoekhuis Auwegemvaart) werd, in 1936, opgericht door Brouwerij en Mouterij César Jacobs. [1] In datzelfde jaar liet de brouwerij een complex bouwen aan het dorpsplein in Putte. Dit complex had een winkel en twee café's met, daartussen in de ingang van feestzaal "Forum". Dit complex werd later omgevormd tot een cinema met grote reclamepanelen, die jarenlang, het dorpszicht van Putte bepaalden.
Overname
Brouwerij César Jacobs werd in 1955 opgenomen in de groep van Brouwerij Lamot uit Mechelen.
Beeldbank
Externe links
Voetnoten
Ad blocker interference detected!
Wikia is a free-to-use site that makes money from advertising. We have a modified experience for viewers using ad blockers

Wikia is not accessible if you've made further modifications. Remove the custom ad blocker rule(s) and the page will load as expected.