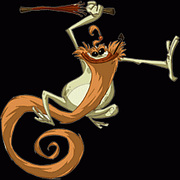 Bubble Dreamer
is the dreamer character in
Rayman
games, and created Rayman's world. The Robo-Pirates are said to be outsiders, and thus he did not create them, but may have drew them there.
Bio
Species: Unknown
Skin Color: Yellow
Allies: Rayman, Globox, Murfy, Teensies, Betilla, Edith Up, Helena Handbasket, Annetta Fish, Holy Luya, Electoons
Enemies: Darkman (Dark/Bad Rayman), Dark Globox, Darktoons
Counterparts

 WARNING: You may add appropriate counterparts. But, do NOT delete any.