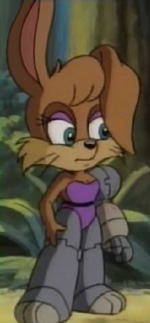 Bunnie Rabbot
is a character from the Sonic the Hedgehog SatAM cartoon series and the Archie comics.
Counterparts
Molly, Madge, Daisy, Caroline, Isobella, Emily, Lady, Rosie, Mavis, Elizabeth, Belle, Clarabel or Flora (Thomas the Tank Engine and Friends)
Pearl or Sally Seaplane (TUGS)
Angel or Aska (Teenage Mutant Ninja Turtles)
Mrs. Chicken, Arlene, or Liz (Garfield and Friends)
Marita, Rita, Minerva Mink or Dot Warner (Animaniacs)
Tracy, Brenda Blue, or Savannah (Jay Jay the Jet Plane)
Spongebob's Mom, Mrs. Puff, Sandy Cheeks, Pearl Krabs or Mindy (SpongeBob SquarePants)
Applejack or Fluttershy (My Little Pony: Friendship is Magic)
Ivy Wentz (Good Luck Charlie)
Commander Vee or Adeleine (Kirby)
Cher Leader (Fanboy & Chum Chum)
Henrietta Von Marzipan (Codename: Kids Next Door)
Doctor Gilbertson (Postman Pat)
Bella Lasagne (Fireman Sam)
Leshawna or Lindsay (Total Drama)
Mrs. Hobday (Bedknobs & Broomsticks)
Cali (Skylanders)
Nurse Minnie (SpinDashpro)
Marcie (Peanuts)
Counterparts (Boy Version)
Napoleon Bonafrog or Silver Sentry (Teenage Mutant Ninja Turtles)
Marty the Zebra (Madagascar)
Parodies
Gallery
Ad blocker interference detected!
Wikia is a free-to-use site that makes money from advertising. We have a modified experience for viewers using ad blockers

Wikia is not accessible if you've made further modifications. Remove the custom ad blocker rule(s) and the page will load as expected.