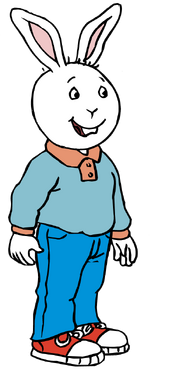 Buster Baxter
is a character from
Arthur
and the main protagonist of his spin-off series,
Postcards from Buster.
He is Arthur's best friend. He suffers from asthma.
Parodies
Voice By
Daniel Brochu (US/UK Season 1-present)
First Appearance
Counterparts (Arthur Version)
Goody-Goody Gordon (Horrid Henry)
Kyle Broflovski, Butters Stotch, or Kenny McCormick (South Park)
Toad or Bowser Junior (SuperMarioLogan)
Mosquito "Skeeter" Valentine (Doug)
Snuffy (Jay Jay the Jet Plane)
Gerald Johannsen (Hey Arnold)
Gabe Duncan (Good Luck Charlie)
Darwin Watterson or Gumball Watterson (The Amazing World of Gumball)
Buzz Lightyear (Toy Story, Both have names starting with "B" and ending with "R")
Matt (Cyberchase)
Theodore (Alvin and the Chipmunks)
Joseph Gribble (King of the Hill ) 
Arnold (The Magic School Bus)
Piglet (Winnie the Pooh)
Dipsy (Teletubbies)
Ray Stantz (Ghostbusters)
Chris Kratt (Wild Kratts)
Counterparts (Postcards from Buster Version)
Ad blocker interference detected!
Wikia is a free-to-use site that makes money from advertising. We have a modified experience for viewers using ad blockers

Wikia is not accessible if you've made further modifications. Remove the custom ad blocker rule(s) and the page will load as expected.