Ad blocker interference detected!
Wikia is a free-to-use site that makes money from advertising. We have a modified experience for viewers using ad blockers

Wikia is not accessible if you've made further modifications. Remove the custom ad blocker rule(s) and the page will load as expected.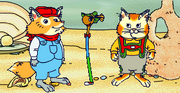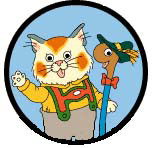 Hello! My name will be Sailor Huckle Moon! I will be creating an account and this will be BusytownMovies in December 3, 2011 after I made all of my videos in Windows Movie Maker in May 16, 2011!
Characters
Huckle
Lowly
Mr. Fixit
Sally
Hilda
Kenny
Mr. Frumble
Lynnie
Bruno
Miss Honey
Dennis
Billy Dog
Bananas Gorilla
Sergeant Murphy
The Three Beggars
Huckle's Mom and Dad
Mr. Gronkle
Vanderbuilt
Cucumber
Pickles
Mayor Fox
Cordelia
Rudolph Von Flugel (RichardScarryClassics)
Bully Bobcat (RichardScarryClassics)
The Doorman (RichardScarryClassics)
List of Huckle and Lowly's Adventures
Now Playing:
Next:
Coming Soon:
Huckle and Lowly Meet The Great Mouse Detective
Huckle and Lowly's Adventures of Aladdin
Huckle and Lowly's Adventures of The Lion King
Huckle and Lowly's Adventures of The Little Mermaid
Huckle and Lowly's Adventures of The Jungle Book
Huckle and Lowly Meet Hercules
Huckle and Lowly's Adventures of Fun and Fancy Free
Huckle and Lowly Meet Tarzan
Huckle and Lowly Meet Pocahontas
Huckle and Lowly Meet Peter Pan
Huckle and Lowly Meet the Hunchback of Notre Dame
Huckle and Lowly Meet Robin Hood
Huckle and Lowly's Adventures of The Emperor's New Groove
Huckle and Lowly Meet Mulan
Huckle and Lowly's Adventures of Pinocchio
Huckle and Lowly's Adventures of The Aristocats
Huckle and Lowly's Adventures of A Goofy Movie
Huckle and Lowly's Adventures of The Sword in the Stone
Huckle and Lowly's Adventures of Bambi
Huckle and Lowly Meet Cinderella
Huckle and Lowly's Adventures of Mary Poppins
Huckle and Lowly Meet Snow White and the Seven Dwarfs
Huckle and Lowly's Adventures of Oliver and Company
Huckle and Lowly's Adventures of Bedknobs and Broomsticks
Huckle and Lowly's Adventures of The Princess and The Frog
Huckle and Lowly's Adventures of Mickey, Donald and Goofy in The Three Musketeers
Huckle and Lowly's Adventures of The Prince and The Pauper
Huckle and Lowly's Adventures of Mickey's Christmas Carol
Huckle and Lowly's Adventures of Lady and The Tramp
Huckle and Lowly's Adventures of Thumbelina
Huckle and Lowly's Adventures of The Swan Princess
Huckle and Lowly Meet The Three Caballeros
Huckle and Lowly's Adventures of The Tigger Movie
Huckle and Lowly's Adventures of The Rescuers
Huckle and Lowly Meet Mulan 2
Huckle and Lowly's Adventures of Beauty and the Beast: The Enchanted Christmas
Huckle and Lowly's Adventures of Beauty and the Beast: Belle's Magical World
Huckle and Lowly's Adventures of Bambi 2
Huckle and Lowly Want to know Who Framed Roger Rabbit
Huckle and Lowly's Adventures of Lilo and Stitch
Huckle and Lowly's Adventures of The Black Cauldron
Huckle and Lowly's Adventures with Atlantis
Huckle and Lowly's Adventures of The Prince of Egypt
Huckle and Lowly's Adventures of The Road to El Dorado
Huckle and Lowly's Adventures of Piglet's Big Movie
Huckle and Lowly's Adventures of Toy Story
Huckle and Lowly's Adventures of Toy Story 2
Huckle and Lowly's Adventures of Toy Story 3
Huckle, Lowly, and the Many Adventures of Winnie the Pooh
Huckle and Lowly's Adventures of Home on The Range
Parodies
BusytownMovies
RichardScarryClassics
Trivia
Rudolf Von Flugel was deleted on BusytownMovies, so it would be RichardScarryClassics