Storyline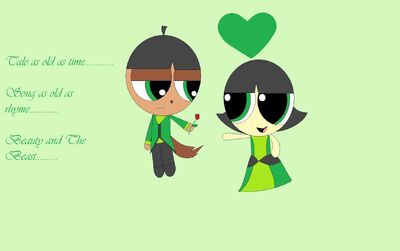 Long ago, a prince named Butch ruled in a castle in the Cartoon World. However, he was a bit vain. One day, an old woman came to his castle, it need of shelter. When Prince Butch refused, it was revealed that the woman was actually Princess Celestia, the Princess of Equestria. To punish his vanity, she turned him into a beast, and his servants into various objects. Now, he has until the last petal on his magical rose falls to find love.
Buttercup was a beautiful yet strange girl who lived in a village not to far away. Not only this, but the handsome-yet-egotistical Ronaldo wants to marry her! One day, when her friend Yo wanders into the forest, he is taken prisoner by the beastly Prince Butch. To save him, Buttercup decides to take Yo's place. As she stays in the beast's castle, she makes friends, and developes feelings for Butch. Will Butch get his happily ever after? Sorry, I ain't giving spoilers!
Cast
Buttercup (PPG) as Belle
Butch (PPG) as Beast
Ronaldo (Kick Buttowski) as Gaston
Carl (Yin Yang Yo!) as LeFou
Yo (Yin Yang Yo!) as Belle's Father
Manny (El Tigre) as Lumiere
Dudley (T.U.F.F. Puppy) as Cogsworth
Frida (El Tigre) as Fifi
Kitty (T.U.F.F. Puppy) as Ms. Potts
Heloise (Jimmy Two-Shoes) as Chip
Numbuh 5 (KND) as The Wardrobe
Ad blocker interference detected!
Wikia is a free-to-use site that makes money from advertising. We have a modified experience for viewers using ad blockers

Wikia is not accessible if you've made further modifications. Remove the custom ad blocker rule(s) and the page will load as expected.