A brief introductory paragraph, outlining this page's purpose: info on knowledge and resources available, required and in production.
What It's All About
Body text of this page, to be added by those who know of this page title's subject domain:
stickers }
posters } stock locations, download-n-printable PDFs
fliers }
T-shirts
banners
flags
arm-tubes
D-locks
tripods
marquees
tents
cookers
photographs
cinema kit
video, DVDs, etc., &c.
Additional Info
Added by those collaborating in developing this area's theory, knowledge base and practice: more of same, with hotlinks to folks with expertise in producing resources, eg:
banner-making
T-shirt printing
photography
videography
video-editing, etc., &c.
An E-On: F-Off! Poster Collaboration
@Alistair – please edit this section and copy-n-paste your text copy in here. Then I'll see about working it into a graphic poster design and upload work-in-progress image updates for comments and design iterations. Thanks in advance, dalinian 11:20, 11 September 2008 (UTC)
A Faircraft Idea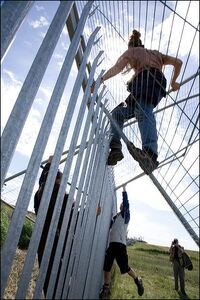 Eeee!  (This is not) On!
         Load of Fluff

         going nowhere

Grand photo, isn't it? Is Faircraft yourself, Alistair? dalinian 13:20, 12 September 2008 (UTC)
Ad blocker interference detected!
Wikia is a free-to-use site that makes money from advertising. We have a modified experience for viewers using ad blockers

Wikia is not accessible if you've made further modifications. Remove the custom ad blocker rule(s) and the page will load as expected.