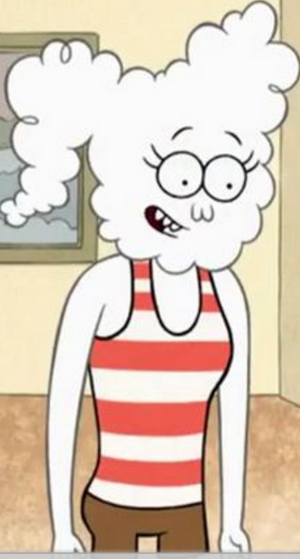 Cloudy Jay (better known as "CJ") is a recurring character in Regular Show. CJ is currently Mordecai's girlfriend, and made her debut in the episode "Yes Dude Yes". She is voiced by Linda Cardellini.
Counterparts
Rita or Hello Nurse (Animaniacs)
Peggy Hill (King of the Hill)
Keesha (Magic School Bus)
Wendolene Ramsbottom (Wallace and Gromit)
Ms. Keane (The Powerpuff Girls)
Jeanette (Alvin and the Chipmunks)
Ad blocker interference detected!
Wikia is a free-to-use site that makes money from advertising. We have a modified experience for viewers using ad blockers

Wikia is not accessible if you've made further modifications. Remove the custom ad blocker rule(s) and the page will load as expected.