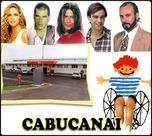 Título: Cabucanai
Autor(es): Zergipio
Género: Drama
Protagonistas: Mónica Castro (Lucero), Ángelo Robbiano (Álvaro Escobar), Ulises Camacho (Luciano Cruz Coke), Brooke Araíza (Aline Kuppenheim), Rafaela Robbiano (Katherine Mazoyer), Leonardo Camacho (Alejandro Castillo)

Breve reseña: La historia transcurre en la ficticia localidad de Cabucanai, que se destacaba por tener el principal centro de rehabilitación de niños lisiados del país: el "Santa Cecilia". El dueño de este centro era Leonardo Camacho, que utilizaba la beneficencia como la forma de darse a conocer en la comunidad y ganarse así el respeto y admiración de la gente. Estuvo casado cinco años con Cecilia Marín, quien murió en un trágico accidente automovilístico, dejándole su cuantiosa fortuna y encargando a dos hijos de su primer matrimonio: Ángelo y Rafaela. Mucha gente piensa que Leonardo tuvo que ver con la muerte de Cecilia, pero nadie ha podido probarlo... Hasta ahora...
Links
Ad blocker interference detected!
Wikia is a free-to-use site that makes money from advertising. We have a modified experience for viewers using ad blockers

Wikia is not accessible if you've made further modifications. Remove the custom ad blocker rule(s) and the page will load as expected.