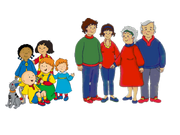 Caillou's Adventures series
Join Caillou and his team as they travel outside together and sometimes on their own series, meeting new and old friends, fighting bitter enemies and saving the world at the same time.
Write the first paragraph of your page here.
Team Heroes
Caillou, Rosie, Leo, Calmative, Sarah, Gilbert, Mom, Dad, Grandma and Grandpa
Po, Shifu, Tigress, Monkey, Crane, Viper, Mantis and Mr. Ping
Orson, Roy, Wade, Booker, Sheldon, Bo, Lanolin and Chloe
Dudley, Kitty, Chief and Keswick
Ollie Jr.
Kitty Jr.
Team Villains
Toon Patrol
Tai Lung
Lord Shen
Orson's Brothers
The Weasel
Snaptrap
Bird Brain
The Chameleon
Larry
Francisco
Ollie
Ad blocker interference detected!
Wikia is a free-to-use site that makes money from advertising. We have a modified experience for viewers using ad blockers

Wikia is not accessible if you've made further modifications. Remove the custom ad blocker rule(s) and the page will load as expected.