Welcome to the Callepedia mini wiki at Scratchpad!
You can use the box below to create new pages for this mini-wiki. Make sure you type [[Category:Callepedia]] on the page before you save it to make it part of the Callepedia wiki (preload can be enabled to automate this task, by clicking this link and saving that page. Afterwards, you may need to purge this page, if you still see this message).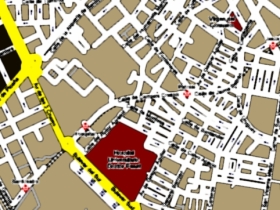 Los nombres de las calles son expresiones con las que se convive, frecuentemente sin conocer del todo su significado u origen. Aquí se puede encontrar información sobre los personajes, lugares o eventos a los que hacen referencia esos nombres. La idea es incorporar la información que no esté ya en la Wikipedia o que se pueda encontrar fácilmente en la red. De ser así, simplemente aparecerá el enlace a la fuente correspondiente. Si conoces el origen del nombre de tu calle o de cualquier otra y quieres compartir esta información, siéntete libre para crear un artículo o modificar los existentes.
Ciudades
Códigos Postales
Ad blocker interference detected!
Wikia is a free-to-use site that makes money from advertising. We have a modified experience for viewers using ad blockers

Wikia is not accessible if you've made further modifications. Remove the custom ad blocker rule(s) and the page will load as expected.