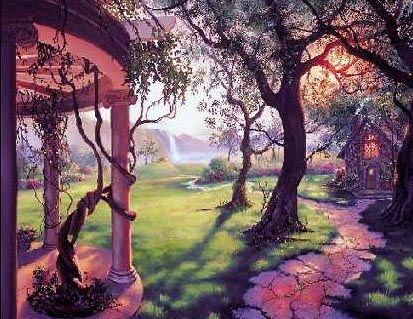 ---
Após fundar a Universidade, Elys Noskort começou cada vez aprender mais e mais, adquiri grandes e profundos conhecimentos mágicos. Com tempo tornou-se uma das bruxas mais poderosas de seu tempo, e seu jardim é uma mostra disso.
Ela criou no final da sua vida, pouco antes de morrer. E tudo nele foi transfigurado e enfeitiçado. A idéia é todo o local parecer um quadro gigantesco, onde os alunos podem andar por ele. A paisagem muda sempre, ao fundo você poderá ver uma cachoeira com um arco-íris ou em outro dia apenas montanhas nevadas. Além de tudo ter uma aparência que feito apenas de tinta de aquarela.
Mas nem tudo é visual, a música faz parte do belo local. Um coreto com estátuas da banda....
Página Inicial | Estrutura

Ad blocker interference detected!
Wikia is a free-to-use site that makes money from advertising. We have a modified experience for viewers using ad blockers

Wikia is not accessible if you've made further modifications. Remove the custom ad blocker rule(s) and the page will load as expected.