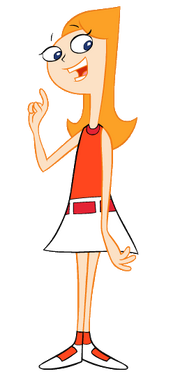 Candace Flynn 
(
born 1995
) is one of the main characters from 
Phineas and Ferb
and
The Land of Teletoon
, and the main female protagonist, although she can sometimes be the anti-heroine. Since her debut, the character has been given a generally mixed to positive reaction. Her Love Interest from The Land of Teletoon Series is Mo' Money.
Counterparts (girl version)

 WARNING: You may add appropriate counterparts. But, do NOT delete any.
Didi (Shining Time Station)
Teddy Duncan (Good Luck Charlie)
Judith Annastasia "Judy" Funnie (Doug, both are older sisters to Phineas and Doug)
Shelly Marsh or Bebe Stevens (South Park)
Kanga or Kessie (Winnie the Pooh)
Numbuh 5, Cree Lincoln or Numbuh 86 (Codename: Kids Next Door)
Dinah Doll (Noddy's Toyland Adventures)
Mrs. Potato Head, Jessie or Bo Peep (Toy Story 1, 2 and 3)
Kiara, Ma, Nala, or Princess Tatiana (The Lion King 1 and 2)
Gwen, Izzy, Bridgette or Heather (Total Drama Island)
Dakota or Zoey (Total Drama Revenge of the Island)
Sammy, Amy, Jasmine, Scarlett or Sky (Total Drama Pahkitew Island)
Emma or Taylor (The Ridonculous Race) (Emma has a younger sibling, while MacArthur, Laurie nor Jen don't.) (Taylor fits Candace, since they are voiced by well-known actresses; Bryn McAuley for Taylor and Ashley Tisdale for Candace)
Melissa McCarthy
Counterparts (boy version)

 WARNING: You may add appropriate counterparts. But, do NOT delete any.
Parodies

 WARNING: You may add parodies. But, do NOT delete any. Complete parodies list
Gallery
Ad blocker interference detected!
Wikia is a free-to-use site that makes money from advertising. We have a modified experience for viewers using ad blockers

Wikia is not accessible if you've made further modifications. Remove the custom ad blocker rule(s) and the page will load as expected.