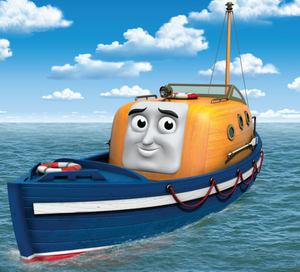 Captain
is a brave wooden lifeboat who is faced with emergency situations. He is part of the Search and Rescue Team with Harold, Rocky, Butch, Belle and Flynn.
Date of Birth
Date of Death
October 2, 2012 (aged 13)
Basis
Captain is based on the Ex-Royal National Lifeboat institution (RNLI) Liverpool Class Lifeboat.
Voice Actors
Television Series
Major Appearances
Specials
Season 14
Merry Misty Island
Jumping Jobi Wood (does not speak)
Season 15
Season 16
Express Coming Through! (does not speak)
Cameos
Season 14
Henry's Health and Safety
Being Percy
Season 15
Toby and Bash
Edward The Hero
James to the Rescue
Happy Hiro
Let It Snow
Fiery Flynn
Season 16
Race to the Rescue
Welcome Stafford
The Christmas Tree Express
Specials
He should be very likely to appear again in Season 18.
Merchandise
Wooden Railway
Take N Play
Trackmaster
Wind Up Trains
Mega Bloks (coming soon)
Bachmann (coming soon)
Theme
Captain's theme is the instrumental of the opening credits of Misty Island Rescue and his other theme is the TUGS opening and ending theme tune.
Counterparts
Kulu the Canoe (Theodore Tugboat)
Captain (Animaniacs; both share the same name)
Mantine (Pokemon)
Ray the Manta or Captain Squeege (Sonic the Hedgehog)
Merdude (Teenage Mutant Ninja Turtles)
Jinn the Dragonfly (Maya the Bee Movie (2014))
Ad blocker interference detected!
Wikia is a free-to-use site that makes money from advertising. We have a modified experience for viewers using ad blockers

Wikia is not accessible if you've made further modifications. Remove the custom ad blocker rule(s) and the page will load as expected.