Caravans of Mars is a setting and adventure supplement detailing the Eastern Deserts of Mars. Provides information on running caravan journeys across the Martian deserts and plains, it also details the society and culture of Great Eastern Desert's fierce Martian inhabitants. This book is rounded out with a complete desert caravan adventure that will introduce players to this dangerous and colorful environment.
In Game Designers' Workshop's own words - Where the Martian canals are no longer functional or where they were never created in ancient times, transportation needs have been taken over by vast caravans. Large wagons pulled by halfwild Martian beasts and protected by nefarious mercenaries carry items for trade between cities otherwise isolated from one another. Join a caravan expedition bound for Alclyon, a caravan beset by bad omens and subtle sabotage. Someone is willing to go to great lengths to see that the caravan does not reach its destination.
Publishing History
Caravans of Mars (GDW/HG 1903)
---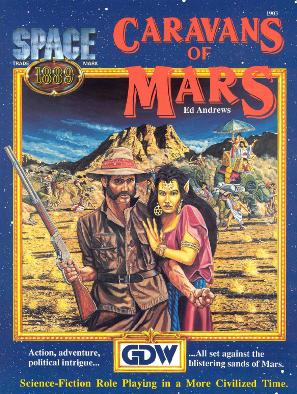 Caravans of Mars has been published twice.
Contents
Caravans of Mars is divided into three sections, Eastern Desert (detailing the Desert Martian tribes of the region), Travel by Caravan (describing caravan life in the Eastern Desert and the encounters that may be had thereon), and Caravan to Aubochon (a full length adventure, in which the characters become envoys of the British Colonial Office).
Eastern Desert
The first section of Caravans of Mars details the native Martians of the Eastern Desert, their culture, society and values. It also introduces various Desert Martian Warlords from the region and includes information on the role of the Shaman in Desert Martian society. The final pages of this section detail the typical Martian animals and encounters that a traveler might come across in the desert.
Sample information from this section includes:
Travel by Caravan
The second section of Caravans of Mars details...
Caravan to Aubochon
The final section of Caravans of Mars is a complete...
Links
The Heliographic Incorporated combined edition of Caravans of Mars supplement and Steppelords of Mars is available for purchase online via the Heliographic Incorporated website or Amazon.com.
Ad blocker interference detected!
Wikia is a free-to-use site that makes money from advertising. We have a modified experience for viewers using ad blockers

Wikia is not accessible if you've made further modifications. Remove the custom ad blocker rule(s) and the page will load as expected.