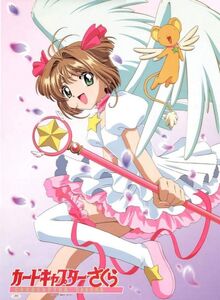 Cardcaptor Sakura, abbreviated as CCS and also known as Cardcaptors is a Japanese Shōjo Manga written and illustrated by the Manga group Clamp. It later became an anime series.
Plot
Sakura Kinomoto was just an average teenager until one fateful day when she found the magical Clow Book that contained mystical cards created by a powerful wizard known as Clow Reed. After reading one of the cards named "Windy" the cards were separated all around her hometown in a tornado, now with the aid of the guardian beast Kerberos, her best friend Tomoyo, a descendent of Clow Reed Syaoran Li and a couple of other allies Sakura must find the cards as a Cardcaptor before it's too late.
Production
The manga was first published in Japan in 1996 by Clamp and then an animated series was produced by Madhouse Animation and aired from 1998 to 2000 in Japan. Then it was brought to the US in 2000 in three different dubs. First was the Ocean Group/Nelvana dub from Canada starring Carly McKillip as Sakura Avalon as she is called in this dub, Matt Hill as Kero, Rhys Huber as Li Showron, Maggie Blue O'Hara as Madison Taylor and Nicole Oliver as Melin Rae (Japanese name is Meiling Li). This dub was criticized for changing the names of the characters a little too much, altering the tone and not airing the episodes in the original chronological order. Another dub was from Animax in Asian countries where English is spoken. This dub wasn't really special because most people didn't know about it. But the most famous dub is the Warner Bros dub that aired from 2000 to 2002 on The WB produced by Joss Whedon creator of Buffy the Vampire Slayer and Barry Sonnenfeld director of Men in Black. The voices include Neve Campbell as Sakura, Paul Rugg as Kero, Toran Caudell as Li, Grey DeLisle as Madison, Lauren Tom as Meilin and other voice actors and celebrities like Joey Lawrence, James Van Der Beek, Sarah Michelle Geller, William Daniels, Madonna, Will Friedle, Kath Soucie, Maurice LaMarche, Jason Marsden, Rino Romano, Tara Strong and Billy West. This dub was well received by the fans and critics as well as viewers across the country for its excellent voice acting, sense of humor, action, romance and the fact that unlike its Nelvana counterpart it aired the episodes in chronological order the way they were meant to be without editing a single frame and the results were paid off in probably the best way imaginable. Much like Ranma 1/2, this show's US airing made it even more popular receiving it a Primetime Emmy award with 3 nominations, 2 Kids Choice Award nominations and a Golden Globe for Sonnenfeld and Whedon. Two movies were released by Warner Bros and they turned out to be mild box office successes with great critical acclaim.
Media
Manga
TV Series
Films
Parodies

 WARNING: You may add parodies. But, do NOT delete any. Complete parodies list