Carrie is a contestant from Total Drama Presents: The Ridonculous Race.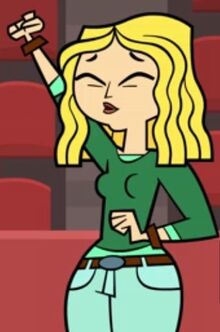 Counterparts
Sailor Neptune or Queen Serenity (Sailor Moon)
Ms. Desjardin/Ms. Collins (Carrie)
Princess Eilonwy (The Black Cauldron)
Kanga (Winnie the Pooh) (Carrie and Kanga are both Beautiful, Caring, Loving, and Friendly Characters)
Odette (The Swan Princess)
Ariel (The Little Mermaid)
Penny Fitzgerald (The Amazing World of Gumball)
Ann Darrow (King Kong)
Sadie (Steven Universe)
Kagome (InuYasha)
Princess Buttercup (The Princess Bride)
Shizuka Minamoto (Doraemon)
Maruko-chan (Chibi Maruko-chan)
Dawn (Pokemon)
Mika Uehara (Initial D)
Dexter's Mom (Dexter's Laboratory)
Ellie (Ice Age)
Nene "Penny Milfer" Sakurada (Crayon Shin-chan)
Annie the Green Onion (VeggieTales)
Amy Anderson (Supernoobs)
Ad blocker interference detected!
Wikia is a free-to-use site that makes money from advertising. We have a modified experience for viewers using ad blockers

Wikia is not accessible if you've made further modifications. Remove the custom ad blocker rule(s) and the page will load as expected.