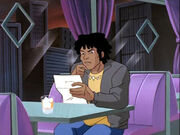 Carter is a character from Teenage Mutant Ninja Turtles.
Counterparts
Stanley or Mighty Mac (Thomas and Friends)
Silver the Hedgehog (Sonic the Hedgehog)
Pop Fizz (Skylanders)
Sparky (Pokemon)
Lei Wulong (Tekken)
Trunks (Dragonball Z)
Homer's Half Brother (The Simpsons)
Jet Jaguar (Godzilla)
No # 262 Ace (Lilo and Stitch)
Depth Charge (Beast Wars)
Ad blocker interference detected!
Wikia is a free-to-use site that makes money from advertising. We have a modified experience for viewers using ad blockers

Wikia is not accessible if you've made further modifications. Remove the custom ad blocker rule(s) and the page will load as expected.