Carter Weiss is a Ventrue Carthian.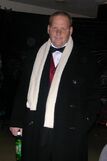 Benjamin Martin was born in Charlestown S.C. in 1742 to wealthy plantation owners Thomas and Emily Martin. Benjamin was well educated in the finest schools in the colonies and even sent to Paris to complete his schooling. When he returned home he took over for his father who turned ill. When war broke out in 1775 Benjamin and his brother Donavon enlisted. During the Battle at Bunker Hill Benjamin was injured and had to leave the war. He joined the newly formed Continental Congress and was present at the singing of the Declaration of Independence.
After the war Benjamin and Donavon returned the family plantation. They set to rebuilding and getting things back order. It was during this time that the 2 brothers meet Isaac Caldwell a charming and engaging man who was verse in all things from science to religion to politics. He became fast friends with the brothers. After 2 months of the 3 spending almost every night together Isaac Embraced them.
After a few moths for them to acclimate to their conduction the 3 of them traveled all over the world. In France the meet Francis De Laoup and Benjamin was captivated with his passion for revolution in Kindred society. The spent a year in listening to the teachings of Francis and debating the merits of them When it was over he had passed his passions on to the 3 and Isaac suggested that the 3 head to America and pass what they learned on to other Kindred. So Isaac went to New York Donavon, went back home to S.C. and Benjamin went to Philadelphia.
As the country opened up so did their travels the 3 would run in to each other from time to time. In 1900 Benjamin received word from other Ventrue in The Movement that Isaac was killed by the Invictis Prince of San Andreas for speaking of revolution. He was devastated and contacted Donavon and decided change his name to Carter Weiss (his Sire's middle name and his mother maiden name) to head to California.
When he reached San Andreas he meet the Ventrue Whip Christen Michaels and his long time ally Ragnar leader of the Circle of the Crone, both who had reasons to want the Prince over thrown. The 3 began plotting with the Gangreal Whip Nightwolf. In one sweep Nightwolf brought down his Elder then Christen brought down the Prince. With the help of Carter Ragnar was able to ascend to the throne.
Player
Dave
Ad blocker interference detected!
Wikia is a free-to-use site that makes money from advertising. We have a modified experience for viewers using ad blockers

Wikia is not accessible if you've made further modifications. Remove the custom ad blocker rule(s) and the page will load as expected.