Jimmyandfriends's videogame spoof of "VeggieTales Creativity City"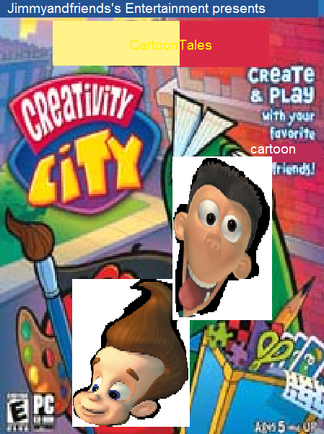 Activities
Jimmy's Bookworks

E-books
Storybooks
Notepads
Dairies
Calendars
Bookmarks
Coloring books
Photo frames

Timmy's Toybox

Mix-up Cartoons
Connect-the-dot-o-tron
Card games
Maze-O-Matic
Puzzles
Paper airplanes
Classic games
Stickers
Party stuff

Sheen's Sign Shack

Banners
Placemats
Doorknob hangers
Certificates
Growth charts
Room signs

Cartoon Plex Theatre

E-posters
Door posters
Movie posters
Patchwork Pictures

The Post Office

Envelopes
Letterhead
Greeting cards
Invitations
Postcards
E-cards
Ad blocker interference detected!
Wikia is a free-to-use site that makes money from advertising. We have a modified experience for viewers using ad blockers

Wikia is not accessible if you've made further modifications. Remove the custom ad blocker rule(s) and the page will load as expected.