Jimmyandfriends's own version of "VeggieTales: An Easter Carol"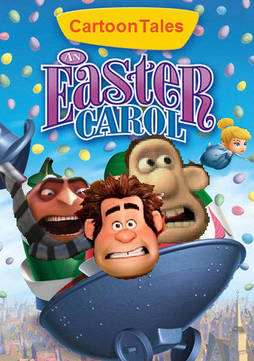 Cast
Gru (Despicable Me) as Mr. Nezzer as Ebenezer Nezzer
Wreck-It Ralph as Bob the Tomato as Cavis Appythart
Wallace (Wallace & Gromit) as Larry the Cucumber as Millward Phelps
Jimmy Neutron as Junior Asparagus as Edmund Gilbert
Granny Puckett (Hoodwinked) as Grandma Nezzer
Jack Skellington (The Nightmare Before Christmas) as Pa Grape as Seymour Schwenk
Hugh and Judy Neutron (Jimmy Neutron) as Dad and Mom Asparagus as Family Gillbert
Eugene H. Krabs (SpongeBob SquarePants) as Scooter Carrot as Moyer LaGumtree
Tinker Bell (Peter Pan) as Hope the Music Box Angel
Cindy Vortex (Jimmy Neutron) as Mary
Carl Wheezer (Jimmy Neutron) as Percy Pea as Benny Hollingshead
Libby Folfax (Jimmy Neutron) as Annie The Green Onion as Rachel Horraceson
Woody (Toy Story) as Archibald Asparagus as Arthur Hollingshead
Boober Fraggle (Fraggle Rock) as Jerry Gourd as Constable
Gallery
Credits Roll
Directed by TIM HODGE
Produced by DAVID PITTS
Production Managers MATT GARBERA CHAD MERRIAM
Production Coordinators IAN ANDERSON KATIE CARNES PEGGY HEINRICHSEN KENYA RAICHART LAURA RICHEY ANDREW YOUSSI
Production Assistants RYAN GWYNNE LINDA STERLING CHRISTY SUMNER
Written by TIM HODGE KEITH LANGO PHIL VISCHER
Story by JOHN DUCKWORTH
Additional Story By STEVE LEEPER MIKE NAWROCKI MARC VULCANO
Storyboarding by TOD CARTER LUIS CONTRERAS TOM OWENS
Art Director MICHAEL SPOONER
Concept Art TOM BANCROFT PHILIP DIMITRIADIS JONATHAN MARTIN JOSEPH SAPULICH JOE SPADAFORD
Color Keys BRAD HICKS CHARLES VOLLMER
Character Voices Clancy Brown Steve Carrell Megan Cavanaugh Glenn Close Mark DeCarlo Debi Derryberry Danny Elfman Dave Goelz Tom Hanks Carolyn Lawrence John C Reiley Peter Sallis Mae Whitman
Crowd Extras STEVE BYRD PAIGE CRAIG REBEKAH LITFIN BRIAN K. ROBERTS
Post-Production Supervisor JOHN WAHBA
Edited by JAY ELDER ADAM FRICK JOHN WAHBA
Associated Editor DAVID N. WATSON
Additional Editor JOEL MAINS
Sound Effects Editor GLEN WEST
Foley Editor DUGAN SHERBONDY
Dialog Editor JAY ELDER
CG Supervisor KEITH LANGO
Additional CG Supervisors MICHAEL B. COMET MIKE LAUBACH
Modeling Supervisor ROB DOLLASE
Modeling Artists IAN HUBBARD HYUN HUH JIN JANG KULL SHIN KUGJOO SUNG
Additional Modeling Artists BRIAN K. ROBERTS JOE SHAW
Layout Supervisor TIM LANNON
Layout Artists YONG DUK JHUN STEVE LEEPER YIN-FANG LIAO ALEX LI RYAN WILLIAMS
Additional Layout Artists THOMAS DANEN NATHAN TUNGSETH
Animation Supervisors ANDY ARNETT
Character Animators JUSTIN BARRETT MARK BEHM MICHAEL B. COMET JEFFREY CROKE THOMAS DANEN THOM FALTER JOE GORSKI JOSHUA GUNTHER CHRIS HICKMAN BILL JACOBY BRIAN K. ROBERTS AMBER RUDOLPH JOE SHAW NATHAN TUNGSETH DAN WAWRZASZEK
Additional Animation ROB DOLLASE TIM LANNON
Lighting Supervisor LUKE MARTORELLI
Lighting Artists NICOLE ALLEN GEHARD BORCHERS MICHAEL B. COMET JASON JUDY
Additional Lighting Artists JOSHUA GUNTHER BRIAN K. ROBERTS
Effects Supervisor MIKE LAUBACH
Effects Artists MARK BEHM JEFFREY CROKE BRAD HIEBERT JOE MCFADDEN
Additional Effects Artist ROB DOLLASE
Engineering Supervisor MICHAEL B. COMET
Engineering Artists JOSHUA GUNTHER BILL JACOBY KEITH LANGO JOE MCFADDEN AMBER RUDOLPH
Render Management HOWARD WILLIAM LEWIS III TIM TOLL KEVIN VASSEY
Database Development LENNIE JARRATT ROBIN MARTIN
Software Support DAN WALKER
Software Development RYAN FORRISTER PAUL KAISER ALAN MILLMAN SCOTT NELSON
Musical Score Composed And Produced by KURT HEINECKE
Mixing ADAM FRICK
Additional Mixing JAY ELDER
Audio Engineering ADAM FRICK
Studio Systems Administrators PAUL EWING MICHAEL HARRISON BOB LANDON PAUL TADER
Senior Systems Administrators JOE RICE WES SUESS
Human Resources Manager JOANNA JANECEK
Director of Staffing JANA DAY
Business Affairs JOJI ARNETT STEVE BYRD STEVE SALTMAN
Production Accountant ANTONIO G. IANNICELLI
Assistant To David Pitts JULEA LOVE
Assistants To Terry Botwick TRISHA SCHEMPER JONATHAN VERMEER
Assistant To Phil Vischer MAUREEN SCALLON
Special Thanks To The Big Idea Family
Executive In Charge Of Production DAN PHILIPS
Executive Producers TERRY BOTWICK PHIL VISCHER
Ad blocker interference detected!
Wikia is a free-to-use site that makes money from advertising. We have a modified experience for viewers using ad blockers

Wikia is not accessible if you've made further modifications. Remove the custom ad blocker rule(s) and the page will load as expected.