Jimmyandfriends' videogame spoof of "VeggieTales: Veggie Carnival"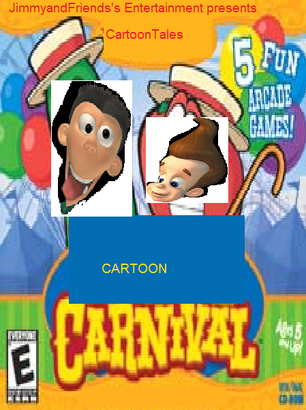 Cast:
Jimmy Neutron as Bob the Tomato
Sheen Estevez (Jimmy Neutron) as Larry the Cucumber
Dexter (Dexter's Laboratory) as Mr. Lunt
Luigi and Guido (Cars) as Jean-Claude and Phillipe Peas as Silly Songs With Robot Host #1 and #2
Wallace (Wallace and Gromit) as Grandpa George as Dartguns in Dodge
Gru (Despicable Me) as Mr. Nezzer as Clown Around
SpongeBob SquarePants and Patrick Star (SpongeBob SquarePants) as Jimmy and Jerry Gourd as Bumper Clickers #1 and #2
Carl Wheezer (Jimmy Neutron) as Li'l Pea
Flapjack (The Marvelous Misadventures of Flapjack) as Percy Pea
Libby Folfax (Jimmy Neutron) as Annie the Green Onion
Timmy Turner (The Fairly OddParents) as Junior Asparagus
Woody (Toy Story) as Archibald Asparagus
Kermit the Frog (Muppets) as Pa Grape
Minigames
Clown Around
Dartguns in Dodge
Bumper Clickers
Jimmareeno
Silly Songs with Robots
Ad blocker interference detected!
Wikia is a free-to-use site that makes money from advertising. We have a modified experience for viewers using ad blockers

Wikia is not accessible if you've made further modifications. Remove the custom ad blocker rule(s) and the page will load as expected.