Jimmyandfriends's videogame spoof of "VeggieTales Dance Dance Dance"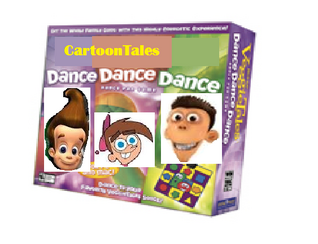 Songs
Bellybutton
Big Things Too
Billy Joe McGuffrey (Theatrical Version)
Boids
The Bunny Song
The Dance Of Sheen Estevez
Do The Moo Shoo
Driving Medley
Endangered Love
Erie Canal
Ezekiel Saw The Wheel
Gated Community
Get On Board
Good Shepherd (Psalm 23)
Head, Shoulders, Knees and Toes (Do Your Ears Hang Low?)
The Hairbrush Song
His Cheeseburger
I Can Be Your Friend
I Love My Duck
I'm So Blue
Joshua Fought The Battle Of Jericho
King Jesus Is All
Sheen's High Silk Hat
Love My Lips
Modern Major General
Promised Land
Rocka My Soul
Salesmunz Rap
Schoolhouse Polka
Silly Song Remix Medley
Sports Utility Vehicle
The Song Of The Minions
Take Me Out to the Ball Game (Backyard)
The Thankfulness Song
This Is My Commandment
CartoonTales Theme Song
What Do You Do (With A Tired Cartoon?)
The Water Buffalo Song
Who Did (Swallow Jonah)
The Yodeling Veterinarian Of The Alps
Gallery
Ad blocker interference detected!
Wikia is a free-to-use site that makes money from advertising. We have a modified experience for viewers using ad blockers

Wikia is not accessible if you've made further modifications. Remove the custom ad blocker rule(s) and the page will load as expected.