Jimmyandfriends's movie-spoofs of "VeggieTales: Esther, the Girl Who Became Queen"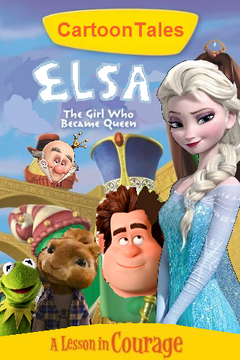 A Lesson in Courage
Cast:
Elsa (Frozen) as Esther
Wreck-It Ralph as Mr. Nezzer as King Xerxes
King Candy (Wreck-It Ralph) as Mr. Lunt as Haman
Kermit the Frog (Muppets) as Pa Grape as Mordecai
Gonzo and Rizzo (Muppets) as Jean Claude & Phillipe Pea as Bigthan & Teresh Peaoni
Fix-It Felix Jr. (Wreck-It Ralph) as Scallion #1 as The Host of the Miss Persia Pageant
E.B. (Hop) as as Larry the Cucumber as Markus the Scribe
Dee Dee (Dexter's Laboratory) as Miss Achmetha
Queen Elinor (Brave) as Queen Vashti
Dexter (Dexter's Laboratory) as Percy Pea as Haman's Bodyguard
Gallery
Credits Roll
Directed by MIKE NAWROCKI
Produced by JENNIFER COMBS
Production Assistants HEATHER FINCH JOSHUA LINDSAY LAURA RICHEY ALEXANDER M. SCHEIDLER HOLLY VICKERY
Additional Production Assistant ANDREW YOUSSI
Written by MIKE NAWROCKI PHIL VISCHER
Storyboard Supervisor TIM HODGE
Storyboarding by LUIS CONTRERAS NEAL STERNECKY
Additional Storyboarding by TOM BANCROFT TOD CARTER TIM HODGE
Art Director MICHAEL SPOONER
Concept Art JOSEPH SAPULICH
Additional Concept Art JAMES BRECKENRIDGE TOD CARTER LUIS CONTRERAS IAN HUBBARD HYUN HUH JEREMY VICKERY
Matte Paintings BOB LEWIS JODY NILSEN JOSEPH SAPULICH
Character Voices Russell Brand Christine Cavanaugh Dave Goelz Idina Menezel Jack McBrayer Allison Moore John C Reilly Emma Thompson Alan Tudyk Steve Whitmire
Edited by JOHN WAHBA
Post Production Faciliator PATTY O'KELLEY
Associated Editor DAVID N. WATSON
Modeling Supervisor JEREMY VICKERY
Modeling Artists IAN HUBBARD HYUN HUH
Texturing Supervisor JEREMY VICKERY
Texturing Artists IAN HUBBARD HYUN HUH
Layout Supervisor STEVE LEEPER
Senior Layout Artist ALEX LI
Layout Artists YIN-FANG LIAO RYAN WILLIAMS
Animation Supervisor MARC VULCANO
Character Animators ANDY ARNETT TOM BANCROFT THOMAS DANEN ROBERT ELLIS THOM FALTER JOE GORSKI JOE MCFADDEN NATHAN TUNGSETH MARC VULCANO
Lighting Supervisor DANIEL PATRICK O'BRIEN
Lighting Artists NICOLE ALLEN RICHARD GOUGE DANIEL PATRICK O'BRIEN CHARLES RAMSEY
Effects Artists ROB DUCEY BRAD HIEBERT
Engineering Artists ROB DUCEY BRAD HIEBERT JOE MCFADDEN NATHAN TUNGSETH
Director of Technical Development HENRY VERA
Render Management HOWARD WILLIAM LEWIS III TIM TOLL
Database Development LENNIE JARRATT
Software Support DAN WALKER
Software Development KEN GREENE ALAN MILLMAN SCOTT NELSON
Musical Score Composed And Produced by KURT HEINECKE
Audio Engineering ADAM FRICK
Choir JOJI ARNETT ELIZABETH BOWLER DEBBIE DAVIS LORI DAVIS KEN GREENE RANDY HALL AMY HOWARD CHAR JACKSON LENNIE JARRATT TRACY JOHNSON BOB LANDON HOWARD WILLIAM LEWIS III JOSHUA QUINN LINDSAY DAVID LLOYD JHANA LOWE SHARI MARTIN TIM MEIDL JONATHAN REICH LAURA RICHEY BRIAN K. ROBERTS MIKE SANDERSON NATHAN TUNGSETH
Instruments NATE BAKKUM HEATHER FINCH ADAM FRICK KURT HEINECKE CHAR JACKSON MARC VULCANO
Orchestra LORI ASHIKAWA CHUCK BONTRAGER MIKE DUGGAN ELLEN FISHER MICHAEL HOVNANIAN ROBERT KASSINGER PETER LABELLA MARK LEKAS SYLVIA MYINTOO BEN WEDGE LUKE WEDGE STEVE WINKLER SUSAN YOUNG
Conducted by KURT HEINECKE
Transcritption CHRIS GEIGER
Director of IT WAYNE GEILS
Studio Systems Administrators MICHAEL HARRISON PAT KEANE
Senior Systems Administrators MATT GRUETT WES SUESS
Content Consultant SCOTTIE MAY Ed.D.
Elsa's Makeup by ALAN MILLMAN NATHAN TUNGSETH
Kermit's Stunt Double DANIEL LOPEZ MUNOZ
Special Thanks To The Big Idea Family
Executive In Charge Of Production CHRIS MEIDL
Executive Producer PHIL VISCHER
Ad blocker interference detected!
Wikia is a free-to-use site that makes money from advertising. We have a modified experience for viewers using ad blockers

Wikia is not accessible if you've made further modifications. Remove the custom ad blocker rule(s) and the page will load as expected.