Jimmyandfriends's movie-spoofs of "VeggieTales: Gideon: Tuba Warrior"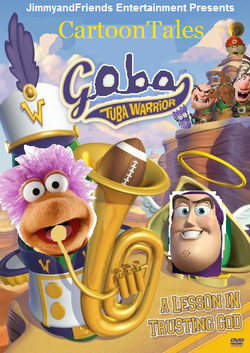 A Lesson in Trusting God
The Story of Sheriff Woody Pride
Cast:
Z (Antz) as Pa Grape as Mr. Simon
Woody (Toy Story) as Archibald Asparagus as George Muller
Bubbles (The Powerpuff Girls) as Annie as Emily
Simon Seville (Alvin and the Chipmunks) as Pa Grape as the Narrator
Lance the Alien
Cast:
Jimmy Neutron as Bob the Tomato
Luigi and Guido (Cars) as Jean-Claude and Phillipe Pea
Squeeze Toy Aliens (Toy Story) as The Peas as Wiggly Turtles Tubbies
Gobo: Tuba Warrior
Cast:
Gobo Fraggle (Fraggle Rock) as Larry the Cucumber as Gideon
Buzz Lightyear (Toy Story) as Pa Grape as Angel
Hook-Hand Thug (Tangled) as Mr. Nezzer as Midianite
SpongeBob SquarePants and Patrick Star (SpongeBob SquarePants) as Jimmy and Jerry Gourd as The Parade Reporters
Woody (Toy Story) as Archibald Asparagus as Asparagus Solider
Alexander Minion (Spy Kids), Evil Minions (Despicable Me 2), Junior Gorg (Fraggle Rock), Carlos (Hop), Big Nose Thug (Tangled), Eduardo Perez/El Macho (Despicable Me 2) and Prince John (Robin Hood) as Midianites
Gallery
Credits Roll
Directed by TIM HODGE BRIAN K. ROBERTS
Produced by COLIN M. DAVIS DAVID PITTS
Story Development TIM HODGE MIKE NAWROCKI DAVID PITTS GAIL SCHENBAUM PHIL VISCHER
Production Coordinators ASHLEY IRVING-SCOTT LISA ANN MEAWASIGE-KERTESZ ALLEN SARAFIAN ANDREW YOUSSI
Written by ROBERT G. LEE MIKE NAWROCKI
Storyboarding by TOD CARTER TIM HODGE BRIAN K. ROBERTS
Concept Art TOD CARTER TIM HODGE BRIAN K. ROBERTS JOE SPADAFORD CHARLES VOLLMER
Art Liaison PAUL DOBSON
Title Designs JOHN TRAUSCHT
Character Voices Tim Allen Woody Allen Ross Bagdasarian Jr Billy Crystal Debi Derryberry Brad Garrett John Goodman Tom Hanks Guido Quaroni Tony Shalhoub Tara Strong Matt Vogel
Crowd Extras TIM HODGE BRIAN K. ROBERTS JOE SPADAFORD CHARLES VOLLMER
Post-Production Supervisor DAVE McCARTNEY
Edited by J. CHRIS WALL
Editorial FRED PARAGANO
Online Editor BRYAN LUREN
Offline Editor YOEL FROHLICH
Character Dialog Recording FRED PARAGANO
Engineering Assistant RIC JURGENS
Supervising Sound Editor JUSTIN DRURY
Executive Sound Editor Supervisor JOE SERAFINI
Foley Editor GARY DAPRATO
CG Supervisor JEFF BELL
Modeling Supervisors IAIN McLUCKIE MARK NEYSMITH
Modeling Artists RAFI BEN AHARON STEVE KAHWATI MAX LAZZARIN ARCHIE VILLAVERDE
Surfacing Supervisors JAE WOOK CHUNG DANIEL HORNICK
Surfacing Artists HEATHER GAGNIER DERIAN MCCREA
Animation Supervisors MICHAEL DHARNEY DANIEL KRZYWANIA ERIC MURRAY
Character Animators ROBIN BADR EMILY BEAULIEU SEAN COGHLIN MICHAEL DEMUR SAMAD KHAN ANDREW LAM JESSE LICKMAN JEFF MCINTYRE DAN TURNER ARCHIE VILLAVERDE
Lighting Supervisor CHRISTOPHER DEREWIANKO
Lighting Artists STEVE KAHWATI MAX LAZZARIN DOMINIC MENEGON MARINE GOODMAN JEFF RUSSELL
Lighting T.D.'s ROB AITCHISON MARK BODANIS MATT COLLIE
Effects Supervisors WARREN LAWTEY DAN WRIGHTSELL
Lead Compositors ALAN KENNEDY JERRY SEGUIN
Compositors RIAN McNAMARA DAVID MITROVIC
Junior Compositors ROB KENNEDY JAIDEEP MOHAN VISHAL RUSTGI
Directors of Technical Development TERRY DALE NEIL GOWER
Software Development MICHAL ELDAR YARON GAVISH JOS'H FULLER MIGUEL SEPULVEDA
Musical Score Composed And Produced by KURT HEINECKE JOHN KELTONIC
Instruments JOHN RIPPTOE JASON PALMER TICO PARSON GREG STAFFORD JOHN TRAUSCHT
Choir KURT HEINECKE BRIAN K. ROBERTS
Office Managers LISA GRIFFIN CHRISTIE NORRISH
Studio Systems Administrators DAMIAN UPTON GREG WHYNOTT
Human Resources RENA DALMASSO SARI SCHWARTZ
Special Thanks To TERRY FLOWERS And The Big Idea Family
Executive In Charge Of Production TERRY PEFANIS
Ad blocker interference detected!
Wikia is a free-to-use site that makes money from advertising. We have a modified experience for viewers using ad blockers

Wikia is not accessible if you've made further modifications. Remove the custom ad blocker rule(s) and the page will load as expected.