Jimmyandfriends's movie-spoof of "VeggieTales: Growing Patient Kids!"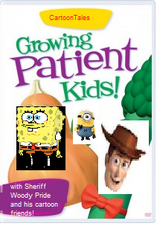 Stories
Kermit and the Amazing Promise
Cast:
Jimmy Neutron as Bob the Tomato
Timmy Turner (The Fairly OddParents) as Junior Asparagus

Kermit the Frog

 as (Muppets) Pa Grape as Abraham
Miss Piggy (Muppets) as Ma Grape as Sarah
Boober and Wembley Fraggle (

Fraggle Rock

) as Jean-Claude and Phillipe Peas The Reporter
Truffles (Chowder) as Miss Achmetha as Nurse
Squidward Tentacles (SpongeBob SquarePants) as Jimmy Gourd as Lot
Unnamed Villager Old Man as Shepard
Carrot Men as Shepard
Villager Old Man with Black Shirt as Shepard
Penguin of the Opera
Cast:
Sheen Estevez (Jimmy Neutron) as Larry the Cucumber as the Italian Scallion
King Dedede (Kirby) as Apollo Gourd
SpongeBob SquarePants as Jimmy Gourd as Jim Gourdly
Patrick Star (SpongeBob SquarePants) as Jerry Gourd as the Cameraman
Jimmy Neutron as Bob the Tomato as Bobby
Flapjack (The Marvelous Misadventures of Flapjack) as Junior Asparagus as Hadrian
Buzz Lightyear (Toy Story) as Pa Grape as Mikey
Dexter (Dexter's Labratory) as Mr. Lunt as the 

Sushi Chef

Woody (Toy Story) as Archibald Asparagus
Eugene H. Krabs (SpongeBob SquarePants) as Scooter
Sweetums (Muppets) as Potato
Gallery
Ad blocker interference detected!
Wikia is a free-to-use site that makes money from advertising. We have a modified experience for viewers using ad blockers

Wikia is not accessible if you've made further modifications. Remove the custom ad blocker rule(s) and the page will load as expected.