Jimmyandfriends's movie spoof of "VeggieTales: Mr. Dooley's Revenge"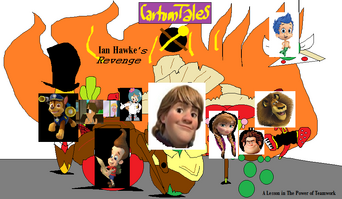 A Lesson in The Power of Teamwork
Cast:
Kristoff (Frozen) as Larry the Cucumber as Huckleberry Larry
Anna (Frozen) as Petunia Rhubarb as Becky, Huckleberry's girlfriend

Jimmy Neutron

 as Bob the Tomato as Tomato Sawyer
Wreck-It Ralph as Apollo Gourd as Little Jimmy/Big Jim
Ian Hawke (Alvin and the Chipmunks) as Mr. Nezzer as Mr. Dooley
Wallace (Wallace & Gromit) as Grandpa George as Clark Wayne
Mike Wazowski (Monsters, 

Inc

.) as Jean-Claude as Chato

SpongeBob SquarePants

 as Jimmy Gourd as the King
Patrick Star (SpongeBob SquarePants) as Jerry Gourd as the Duke
Uncle Traveling Matt (

Fraggle Rock

) as Scooter as Otto
King Candy (Wreck-it Ralph) as Mr. Lunt as Haman (cameo)
Alvin, Simon and Theodore Seville (Alvin and the Chipmunks) as The Pirates Who Don't Do Anything (voice-over)
Woody (Toy Story) as Archibald Asparagus as Dustin
Patchy the Pirate (SpongeBob SquarePants) as Silas (cameo)
Mung Daal (Chowder) as Chog Norrius as the Warden
Gloria (Madagascar) as Madame Blueberry as the Warden's Wife
Kermit the Frog (Muppets) as Pa Grape as Jonathan
Timmy Turner (The Fairly OddParents) as Junior Asparagus as Barney (W/ Cosmo, Wanda, Poof (The Fairly OddParents for extras)
Dudley Puppy (T.U.F.F. Puppy) as Steve
School House Humanitartion Karaoke
Sam Sparks (Cloudy with a Chance of Meatballs) as Petunia Rhubarb
Ad blocker interference detected!
Wikia is a free-to-use site that makes money from advertising. We have a modified experience for viewers using ad blockers

Wikia is not accessible if you've made further modifications. Remove the custom ad blocker rule(s) and the page will load as expected.