Jimmyandfriends's app-spoofs of "VeggieTales: MacLarry & The Stinky Cheese Battle Game App"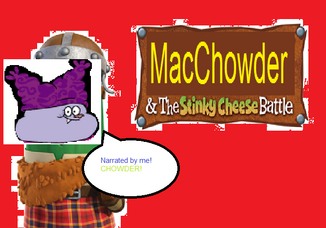 Cast:
Chowder as Larry the Cucumber as MacLarry Norrius
Jimmy Neutron as Bob the Tomato as MacBob
Panini (Chowder) as Petunia Rhubarb as MacTunia
Mung Daal (Chowder) as Chog Norrius
Captain K'nuckles (The Marvelous Misadventures of Flapjack) as Scooter as MacScooter
Buzz Lightyear (Toy Story) as Mr. Nezzer as MacNezzer
Gobo Fraggle (Fraggle Rock) Jimmy Gourd as MacJimmy
Wembley Fraggle (Fraggle Rock) as Jerry Gourd as Donald
Wreck-It Ralph as Mr. Lunt as Pompous Maximus
Philo (Fraggle Rock) as Jean Claude as Jean Cladius Pea-Torian
Gunge (Fraggle Rock) as Phillipe Pea as Phillipus Pea-Torian
Woody (Toy Story) as Archibald Asparagus as Archimedes and Narrator
Buzzie, Flaps, Ziggy and Dizzy (The Jungle Book) as The Turnips
Ryan Edwards (Alvin and the Chipmunks: The Squeakquel) as Garrius Grape
Levels
The Prank Feud Begins (Reach for the Sky!)
A Worse Haircut Line
Red Alert!
MacChowder's Ego-Check
Revenge of the Romans
Run for Your Lives!
Ralph's Roman Amphitheater Showdown
Battle of the Mutant Cartoons
MacChowder is Imprisoned!
Call 911!
Roman Chase
The Smelly Cheese!!!
The Prank Fight Ends
A Happy Ending in Scotland (God Has Made Our Differences)
Ad blocker interference detected!
Wikia is a free-to-use site that makes money from advertising. We have a modified experience for viewers using ad blockers

Wikia is not accessible if you've made further modifications. Remove the custom ad blocker rule(s) and the page will load as expected.