Jimmyandfriends's movie-spoofs of "VeggieTales: The Wonderful World of Auto-Tainment!"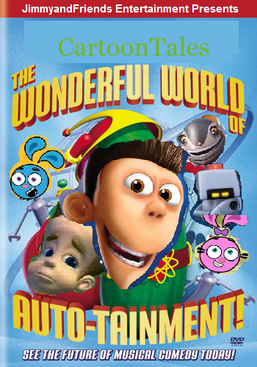 Cast:
Jimmy Neutron as Bob the Tomato
Sheen Estevez (Jimmy Neutron) as Larry the Cucumber
Dexter (Dexter's Laboratory) as Mr. Lunt as The Gourd of the Future
Bigweld (Robots) as Ventril-o-Matic
M-O (WALL-E) as Rusty
Woody (Toy Story) as Archibald Asparagus
Timmy Turner (The Fairly OddParents) as Junior Asparagus
Kermit the Frog (Muppets) and Simon Seville (Alvin and the Chipmunks) as Pa Grape
Luigi and Guido (Cars) as Jean-Claude and Phillipe Peas
SpongeBob SquarePants as Jimmy Gourd
Eugene H. Krabs (SpongeBob SquarePants) as Scooter
Patrick Star (SpongeBob SquarePants) as Jerry Gourd
Fix-it Felix Jr. (Wreck-it Ralph) as Zidgel (cameo)
Songs
There's a Hole In the Bottom of the Sea
Zachheus
Modern Major General
You Are My Sunshine
Erie Canal
My Day
Lunch
Cast:
Carl Wheezer (Jimmy Neutron) as Ed
Jake (Adventure Time) as Mozart
Grover the Opera Singer
Cast:
Grover (Sesame Street) as Binky
Gallery
Ad blocker interference detected!
Wikia is a free-to-use site that makes money from advertising. We have a modified experience for viewers using ad blockers

Wikia is not accessible if you've made further modifications. Remove the custom ad blocker rule(s) and the page will load as expected.