Jimmyandfriends's music spoof of "VeggieTunes 4"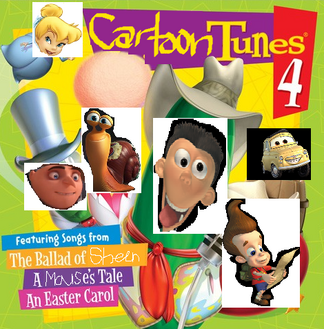 Tracks
CartoonTales Theme Song
Happy Ki-Yi Birthday
Dream of a Dozen Cactus
Oh Sheen (McPotiphar's Song)
I'm Blue
Oh Sheen (Jail Cell)
Dracula's Dream
Oh Sheen (Instrumental)
Another Easter Day
113 Years Ago
You Didn't Listen Gru
Boids
The Factory (Score)
Tinker Bell's Song
Another Easter Day (Reprise)
SUV
I Want to Dance
I Want to Dance (Disco Version)
What We Have Learned (Western Version)
Gallery
Ad blocker interference detected!
Wikia is a free-to-use site that makes money from advertising. We have a modified experience for viewers using ad blockers

Wikia is not accessible if you've made further modifications. Remove the custom ad blocker rule(s) and the page will load as expected.