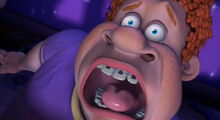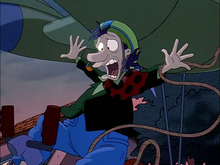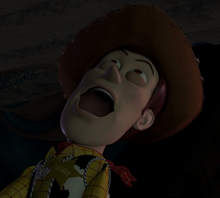 Cartoon Yells From Film and Favourites it'll appear in YouTube uploading on October 18, 2015.
Cast
Shrek
Stu Pickles (Rugrats)
RJ (Over the Hedge)
Woody (Toy Story)
Danny (Cats Don't Dance)
Alvin (Alvin and the Chipmunks)
Snotty Boy (Barnyard the Movie)
Ted the Man with the Yellow Hat (Curious George)
Flik (A Bug's Life)
Aladdin
Remy (Ratatouille)
Tommy Pickles, Chuckie Finster, Phil DeVille, and Lil DeVille (The Rugrats Movie)
Fowler (Chicken Run)
Steve Butabi (A Night at the Roxbury)
Mr. C. Junior (Thomas and the Magic Railroad)
Toad (SuperMarioLogan)
Toaster (The Brave Little Toaster)
Conductor and the Gang (The Polar Express)
Gus (Cinderella)
Thomas the Tank Engine
Characters (Indiana Jones and the Template of Doom)
Phil (Daddy Day Care)
Hamm (Toy Story 2)
Head of the Security's Son (Hey Arnold! The Movie)
Barney The Dinosaur (Barney)
Rocky Rhodes (Chicken Run)
The Fairy Godmother (Cinderella)
Bob The Builder
Chef Skinner (Ratatouille)
Voice Cast
Mike Myers as Shrek
Jack Riley as Stu Pickles
Bruce Willis as RJ
Tom Hanks as Woody and the Conductor
Scott Bakula as Danny
Ross Bagdasarian, Jr. as Alvin
Steve Oedekerk as Snotty Boy
Will Ferrell as Ted and Steve
Dave Foley as Flik
Scott Winger as Aladdin
Patton Oswalt as Remy
E.G. Daily as Tommy Pickles
Christine Cavanaugh as Chuckie Finster
Kath Soucie as Phil and Lil DeVille
Benjamin Whitrow as Fowler
Michael E. Rodgers as Mr. C. Junior
Lovell Stanton as Toad
Deanna Oliver as Toaster
Daryl Sabara as the Boy
Nona Gaye as the Girl
Corey Burton as Gus
Edward Glen as Thomas the Tank Engine
Michael Yama as Character
Ric Young as Character
D. R. Nanayakkara as Character
David Yip as Character
Jeff Garlin as Phil
John Ratzenberger as Hamm
Steve Zahn as Head of the Security's Son
Tim Brooke-Taylor as Barney the Dinosaur
Mel Gibson as Rocky
Verna Felton as Fairy Godmother
Neil Morrissey as Bob the Builder
Ian Holm as Chef Skinner
Ad blocker interference detected!
Wikia is a free-to-use site that makes money from advertising. We have a modified experience for viewers using ad blockers

Wikia is not accessible if you've made further modifications. Remove the custom ad blocker rule(s) and the page will load as expected.