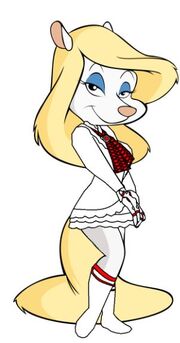 MichaelSar12isBack's movie-spoof of "Tekken Wonderful Adventure".
Cast
Baby Lili Rochefort - Sheegwa Miao (Sagwa the Chinese Siamese Cat)
Young Lili Rochefort - Sagwa Miao (Sagwa the Chinese Siamese Cat)
Lili Rochefort - Minerva Mink (Animaniacs)
Marshall Law - Wakko Warner (Animaniacs)
Paul Phoenix - Louis (The Princess and the Frog)
Sebastian - Flavio (Animaniacs)
Mrs. Law - Faloo (The Rescuers Down Under)
Forest Law - Mordecai (Regular Show)
Asuka Kazama - Margaret (Regular Show)
Feng Wei - Ed (The Lion King)
Kuma - Toby (The Great Mouse Detective)
Mr. Rochefort - Rafiki (The Lion King)
Mr. Kazama - Ludwig Von Drake (Disney)
Jinpachi Mishima - Makunga (Madagascar: Escape 2 Africa)
Rudy - Rocko (Rocko's Morden Life)
Pedro - Benny (Dora the Explorer)
Chinese Ringmaster - Honest John (Pinocchio)
Feng's Master - Grandfather Bear (Little Bear)
The Director - Owl (Little Bear)
Announcer - Groundhog (The Lion King)
Ad blocker interference detected!
Wikia is a free-to-use site that makes money from advertising. We have a modified experience for viewers using ad blockers

Wikia is not accessible if you've made further modifications. Remove the custom ad blocker rule(s) and the page will load as expected.