Jimmyandfriends's movie-spoofs of "Cars"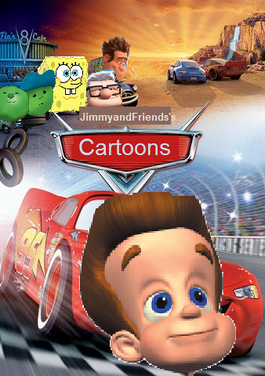 Cast:
Jimmy Neutron as Lightning McQueen
Cindy Vortex (Jimmy Neutron) as Sally Carrera
SpongeBob SquarePants as Mater
as Sheriff
Carl Fredricksen (Up) as Doc Hudson
Jean Claude and Philippe Pea (VeggieTales) as Luigi and Guido
as Red
Pirate Captain (The Pirates! Band of Misfits) as Sarge
Wreck-It Ralph as Fillmore
as Ramone
as Flo
as Lizzie
as Strip Weathers/The King/Mr. The King
as Lynda Weathers/The Queen/Mrs. The Queen
as Mack
as Rusty and Dusty
as Tex Dinoco
as Van and Minny
as Chick Hicks
as Mia and Tia
as Antenna Ball Seller Car
as Jerry Recycled Batteries
as Fred
as Stanley
Post-Credits Scenes
Radiatior Springs Filming:
Character Car Story
Cast:
Gru (Despicable Me) as Woody
Jimmy Neutron as Buzz Lightyear
Pa Gorg (Fraggle Rock) as Hamm
Cartoon Trucks, Inc.
Cast:
Wreck-It Ralph as Sulley
Larry the Cucumber (VeggieTales) as Mike Wazowski
King Dedede (Kirby) as Abomniable Snowman
Ad blocker interference detected!
Wikia is a free-to-use site that makes money from advertising. We have a modified experience for viewers using ad blockers

Wikia is not accessible if you've made further modifications. Remove the custom ad blocker rule(s) and the page will load as expected.