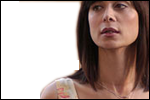 Catherine Bell es una conocida modelo y actriz norteamericana. Su carrera en el lado de la actuación ha sido principalmente en la televisión, siendo la serie "JAG" en la que logró el mayor reconocimiento público.
Filmografía en Foronovelas
Ad blocker interference detected!
Wikia is a free-to-use site that makes money from advertising. We have a modified experience for viewers using ad blockers

Wikia is not accessible if you've made further modifications. Remove the custom ad blocker rule(s) and the page will load as expected.