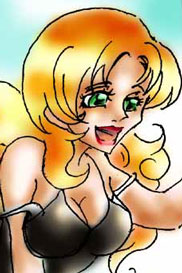 Spoilers: I'm going to stick to Basics for a while, even though they contain spoilers...
Basics
AKA: Cheri
Age: ~310 in year 0
Looks: voluptous blonde, big green eyes.
Character: 'Free love' enthusiast. Wise and canny beneath a blonde bimbo facade. All about kids.
Special skills: Seduction. Sailing. Can use vast wind majutsu beyond Shin Makoku's borders.
Family: Brother (Stoeffel Lord Spitzweg) and three sons (Gwendal von Walde, Conrad Weller, and Wolfram von Bielenfeld, by three different men, as per the anime.
These stories add more back story to Gwendal's father General Lord Walde, Shin Makoku's military mastermind in the Great Troll and Goblin War. They also provide Wolfram's father, Manfred von Bielenfeld, a man only 20 years older than Gwendal. Cheri and Manfred, after a long and torturous relationship, finally married for two years, when Wolfram is in his 80's - wed in WTaB, and split by TwT. Cheri was shacking up with others even during their marriage. Manfred's family profoundly disapproved of Cheri with Manfred, and didn't like her any better as Maou.
Cheri is an eighth wood nymph - her grandmother was the famous beauty Emeraude von Bielenfeld, sister of Friedrich and daughter of Tariel. One of Cheri's von Spitzweg cousins was Danielle Lady Donaghie, Kieran's mother. The von Spitzwegs were Emeraude's second marriage - her first was with the von Wincott family, so Cheri was also cousins with Glynda (Aldrich's wife) and Suzanna Julia von Wincott.
Cheri's recently (TwT) become convinced she needs to find a new vocation. The whole family wishes her godspeed...
Stories: all.
Sprout! - with Manfred and Aldrich, from TwT (by bananam00n)
A Fully Justified Kick - at Wolfram and Yuuri's final wedding (by bananam00n and Jinjyaa)
Ad blocker interference detected!
Wikia is a free-to-use site that makes money from advertising. We have a modified experience for viewers using ad blockers

Wikia is not accessible if you've made further modifications. Remove the custom ad blocker rule(s) and the page will load as expected.