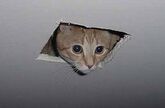 Ceiling Cat is the leader of the Cat Cult which threatens to destroy the world with weapons such as , the Catinator and the Ninja-Cats and most of all Elephant Tranquilizers
Coming across Celing Cat is a risk of your health and it will kill you mercilessly with its claws of doom!
People who have come across Ceiling Cat in the past are:
It is rumoured that Chuck Norris once met Ceiling Cat but this is impossible as Ceiling Cat still strikes its terror today
Ad blocker interference detected!
Wikia is a free-to-use site that makes money from advertising. We have a modified experience for viewers using ad blockers

Wikia is not accessible if you've made further modifications. Remove the custom ad blocker rule(s) and the page will load as expected.